Mother's Days Events
Mother's Days Events
Give us a Call: 1-800-785-1550 PROMO
BTC
MENTION PROMO CODE AND RECEIVE FREE TRIP PROTECTION • SEE DETAILS
Business Hours: (All times Central Standard Time)
Open 7 days a week. 8:00 am - 9:30 pm
Information for 2015 updating daily.
Click a heading to see more information.
Ahh yes...Mother's Day. A day to celebrate mom. Show your mother how much you care with a trip to Branson! Mother's Day will be busy with variety of brunches, shows, atractions, museums, mini-golf, shopping and other events. We have some great Mother's Day packages available. See the link below.
Be sure to bookmark this page so you can come back and see the events we have added.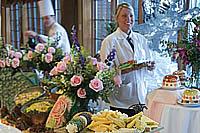 May 10, 2015 from 10:00 am to 2:00 pm
Celebrate with loved ones at our Mother's Day Brunch in the rustic elegance of The Keeter Center, overlooking the beautiful College of the Ozarks campus. Full breakfast selections at the Farmhouse include personalized omelets and waffles. The Marketplace features our Chef's beautiful ice sculpture, hand-cut fresh seasonal fruits, domestic and imported cheese, cruditès, and made-to-order Caesar salads. Creative culinary delights abound at the Chef's Table where you will find original seafood creations, and carved award-winning College of the Ozarks smoked ham. Browse the finest sweets and dessert display in the Ozarks at the Bakeshop. Special menu featuring roast prime rib and smoked ham alongside delicious traditional accompaniments.
Reserve directly with the Keeter Center using the links below.
Reservations for 1 to 5 people
Reservations for 6 to 10 people
For groups larger than 10 people please call 417-690-2100
$34.95 for Adults, $13.95 for Children 6-12 years old, 5 and under are complimentary.
$50.00 Deposit on reservation.
(prices and menu items subject to change)
Located at College of the Ozarks Campus - 1 Opportunity Avenue - Point Lookout, Missouri.