Thanksgiving Events 2015
Thanksgiving Events 2015
Give us a Call: 1-800-785-1550 WEB CODE
BTC
NO SERVICE FEES! • BEST SEATS AVAILABLE • SAVE TIME & MONEY
We are open 7 Days a Week 8:00 am - 9:30 pm (CST)
Information for 2015 will be available soon!
Click a heading to see more information.
Thanksgiving Week
November is a wonderful time to visit Branson. You will be surrounded by the beautiful colors of an Ozark's Fall season and winter's cold weather usually hasn't set in yet. There's plenty to do, too. The town will be lit up in Christmas lights in anticipation of the holiday season. Shows will be in full swing, some dedicating the entire performance to Christmas. If you haven't finished playing Santa there's plenty of places to go shopping and find those perfect gifts. If you're here for Thanksgiving there are lots of great restaurants to choose from for all of your Thanksgiving dinner fixings. Don't miss out on the festivals and special events and don't forget to take in the beauty of the lake too.
We are in the process of gathering events for this holiday. Be sure to bookmark this page so you can quickly access our growing list.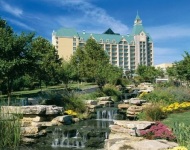 November 26, 2015
Chateau on the Lake - Thanksgiving Day Brunch
Join Chateau on the Lake as we give thanks this holiday season. Our Thanksgiving Brunch will warm your hearts with a selection of salads, fruits, cheeses, shellfish, entrees, side dishes, carved meats and dessert! Adults are $52, children ages 6-12 are $24 and children 5 and under eat free with an adult. Remember to call early for reservations as space is limited. Contact our holiday line at 888-333-5253 for further details.