PRESS RELEASE: Immediate Release
Contact: Gary Groman
E-mail: GaryGroman@BransonTourismCenter.com
Phone: 417-294-0404
Branson Tourism Center reaches 3 million ticket milestone
Branson, MO., May 24, 2012 -- When Peggy Barthel and her husband from Florence, MS walked up to check in for their five night six day Branson vacation in the lobby of the Branson Tourism Center today they knew something special was going on when hundreds of blue and white balloons cascaded down from the ceiling around them and everyone in the lobby started applauding and celebrating. As they were greeted by Lianne Milton, the owner of BTC and the cast of one of the most popular shows in Branson and the first show on their itinerary, SIX, the Barthels discovered that they had purchased the 3 millionth Branson show and attraction ticket sold by the Branson Tourism Center (BTC).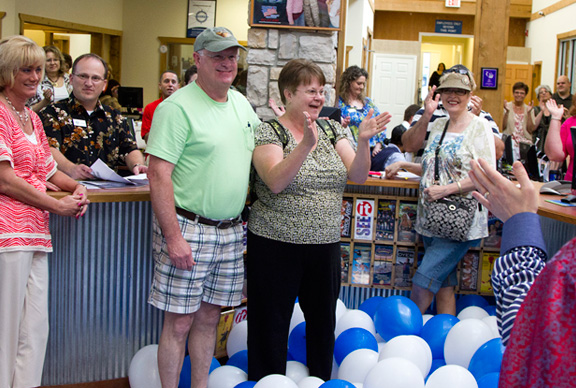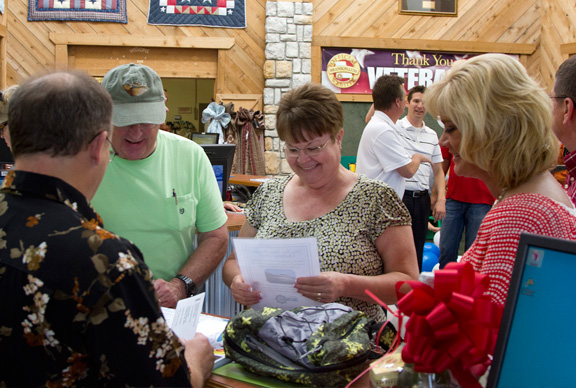 BTC typically sells tickets, lodging and other Branson travel service and makes customers reservations well in advance of their actual arrival in Branson. "The Barthels became the lucky 3 millionth ticket customer when they placed their order on May 8, but it had been a closely guarded secret until their check in at BTC today," said Brian Milton, the CFO of BTC.
The Barthels said it was a complete surprise. It became even a bigger surprise for them when they found out that in celebration of their being the 3 millionth BTC ticket purchaser that, among other prizes, their entire six day, five night Branson vacation was being paid for by BTC as well as a two hour charter on the "Branson Princess," luxury yacht, for them and 100 of their friends and guests, on a future trip to Branson.
Lianne Milton, the owner of BTC said, "The sale of our 3 millionth ticket means a lot to me personally because it represents the achievement of a milestone in our efforts to market the shows, attractions, lodging and other activities of our vendors and in sharing the Branson experience with over 940,000 people." She attributes the success of BTC to the commitment and passion of its employees to sharing Branson and all that it has to offer with prospective visitors and in following the simple concept of "If it's important to you, it's important to me" in making sure that every Branson Tourism Center customer has a great Branson experience and will want to return.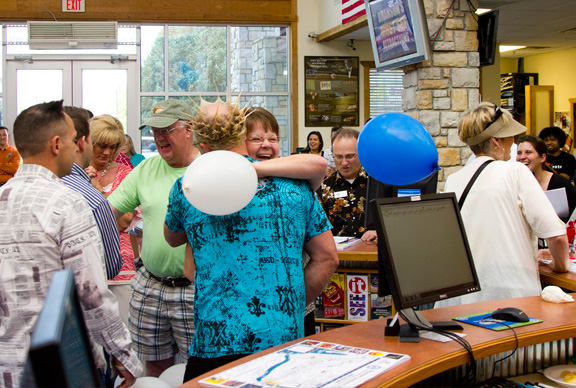 She continues by pointing out that the vast majority of the 3 million tickets that BTC has sold, as was the case with the Barthels, were marketed and sold to people, "out of market," before they came to Branson; not through intercept marketing once they arrived in Branson.
Branson Tourism Center, LLC is one of Branson's largest providers of Branson travel services and employs about 100 people. It is an accredited member of the Better Business Bureau of Southwest Missouri with an A+ rating. Among other organizations, it is a member of the Branson Lakes Area Chamber of Commerce and Convention and Visitors Bureau, Better Business Bureau, American Society of Travel Agents, American Bus Association, and the Branson Lakes Area Lodging Association. Branson Tourism Center may be reached by calling 1-800-785-1550.
---
Branson Tourism Center reaches two million ticket milestone
Branson, MO., December 2010 -- With the check-in of Milton and Doris Hughes at its office on the morning of November 4, Branson Tourism Center (BTC) has done something that few, if any, providers of Branson travel services has ever done, sold over two million Branson show and attraction tickets. Although excited about selling two million tickets, the co-owner of Branson Tourism Center, Lianne Milton was equally excited about the way the two millionth ticket was sold.
That excitement stems from the fact that the two millionth ticket was sold the same way Branson Tourism Center (BTC) sold its very first ticket. Lianne said, "Even before our first ticket was sold our philosophy was to build BTC through personal relationships with our vendors and customers to ensure that the customer had a great experience while in Branson. We were going to do that by providing them with the best Branson information, value, and personal travel services."
She continues, "The fact that we have sold over two million Branson show and attraction tickets by passionately following that philosophy is exciting, not only from the number of tickets sold perspective, but in terms of all the great personal Branson experiences of families and individuals that the sales of those tickets represent." Milton points out that the relationships BTC has built up with its customers over the years because of that philosophy has played a significant role in reaching the two million ticket milestone.
"But it is a team effort," she said. "We are so thankful to be able to work with vendors and a staff of professionals who are passionately concerned and committed to each Branson visitor." Milton explained that Branson has many quality shows, attractions and lodging facilities and the relationships that BTC has built up with them over the years enables them to work together to provide Branson guests with the best value, show seat and lodging choices and customer service.
---
Branson Tourism Center celebrates one-millionth Branson show ticket!
Eleven families celebrated this milestone, with one entire Branson vacation and ten $100 gift cards given away.
(The Spitznagle family pictured above with Lianne, the owner of Branson Tourism Center).
Congratulations to the Spitznagle family, winners of the FREE Branson vacation and $100 gas card!
The Spitznagle family from Mulberry, Indiana are the lucky ladies who purchased the 1,000,000th ticket! All three were celebrating their birthday by vacationing in Branson! We congratulate them helping us reach the milestone one millionth ticket, and wish them all a happy birthday!
Branson, MO. -- Eleven families celebrated September 26, 2007, with Branson Tourism Center. One lucky family received a free vacation to Branson, a $100.00 pre-paid BP gas card and they are featured on BransonTourismCenter.com. In addition, on the day that the one-millionth ticket was purchased, 10 of their customers received a $100 gift card, courtesy of Branson Tourism Center.
The full-service Branson vacation company is celebrating a major milestone--a staggering one million theater and attraction tickets sold in just four years--and the customer who purchased the millionth ticket won a refund of their entire vacation arranged through Branson Tourism Center.
Branson Tourism Center owner Lianne Milton said the millionth-ticket promotion is one way her company can thank the clients that have helped it grow so quickly. "We want to thank all our customers for helping us reach our goal of selling a million tickets over the past four years," Milton stated. "Branson Tourism Center has achieved this level of performance in such a short period because of our satisfied repeat customers and the referrals our customers continue to send our way. The vacation refund and prepaid gas card is our way we can express our appreciation to our customers."
Branson Tourism Center sold its millionth ticket September 26, 2007, to the Spitznagle family from Mulberry, Indiana. All three ladies in the family were on vacation to celebrate their birthday, and chose Branson as the destination to celebrate. Up until the moment they checked in, they did not know they had won.
But even those who did not win the millionth-ticket promotion will still enjoy memorable vacations in the live entertainment capital of the world, thanks to Branson Tourism Center's focus on their customers. The company, a full-service travel agency exclusively serving visitors to Branson, Missouri, creates vacation packages tailored to their customer's individual tastes and offers personalized advice on everything from restaurants and special events to recommendations on sought-after limited engagements--all with no service fees or extra charges.
"We would like to thank all of our customers who helped us reach this milestone," said Milton. "Our customers have brought us to where we are and our focus on making their vacation to Branson as memorable and enjoyable as possible is unwavering. To show our appreciation we are also running a promotion that gives an additional ten cents off each gallon of gas to all customers who order through Branson Tourism Center, between now and October 15, which is in addition to our regular twenty cents per gallon discount."
"When Branson Tourism Center customizes our clients personal vacation plans, they get a combination of all the best dining, lodging and entertainment venues at the best discounted prices," Milton explained. "Because we receive volume pricing from Branson theaters, attractions, lodging, restaurants and shops, we are able to pass those savings on to our customers."
Branson Tourism Center is open 8 a.m. to 9 p.m. every day of the year, except Christmas. The company's 80 employees are dedicated to discovering each traveler's special interests, providing insider information on the Branson area, including shortcuts the locals use to get around town.
Congratulations to the $100 gift card winners!
Mr. & Mrs. Blaes from Cherryvale, KS
B. McGarity from Sheridan, AR
J. Luzar from Chapin, SC
H. Kinder from Clarkston, MI
M. Johnston from Cameron, MO
A. Seamans from South Gate, ID
D. Neve from Fort Mill, SC
R. Davis from Omaha, NE
S. Duke from Gore, OK
C. Craig from Clear Lake, IA
We would also like to thank all of our customers who helped us reach this milestone!