Titanic Events
2013 Titanic Museum Attraction Events
Discover the Children of Titanic
From January 18 to December 31, 2013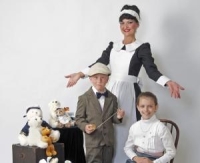 At the start of the new year, the Titanic Museum Attraction will bring Titanic's littlest heroes out of the shadows and into the hearts of guests when they find new stories - dedicated exclusively to the Children of Titanic.
The RMS Titanic sailed with 2,208 people on board - 133 of them were children. These were Titanic's littlest heroes. What they saw, heard and felt from the moment they boarded the ship has been documented and visualized for the first time anywhere by the Titanic Museum Attractions in Branson, Missouri and Pigeon Forge, Tennessee. This year-long, exclusive exhibit is a celebration of The Children of Titanic whose bravery, innocence and faith can be an inspiration to us all.
January
Titanic Honors Homeschool Students
From January 1 to April 30, 2013
Use the 'ship' as a classroom! Students can learn life lessons, along with traditional education in History, Science, Geography, language arts, and Social Studies.
February
Sweetheart Month - February 1-28, 2013
American Heart Month - Vow Renewal Contest
Romance and adventure were in the air when Titanic set sail on April 10, 1912. Twelve couples traveling on Titanic were on their honeymoon , nine in first class. There were also young, brides-to-be sailing to America to start a new life there. Rose DeWitt Bukater, the fictional, co-star in the Academy Award winning TITANIC was among this group.
Experience the power of love during Titanic's Sweetheart Month this February 2013. Join us as we pay tribute to romance and the lasting love of devoted couples everywhere. Our Vow Renewals are held in elegant style on Titanic's Grand Staircase; every ceremony is presided over by the ship's captain.
March
Titanic Celebrates The Irish - March 1-31, 2013
Sure and begorrah, 'tis a great day to be Irish. This popular month-long annual event brings out the Irish in everyone who comes aboard. Music, singing, dancing, tall tales and Gaelic humor will rock the boar in joyous celebration of the men, women and the country that gave birth to Titanic.
NEW! - Girl Scout Day - March 2-3, 2013
Author's Week - March 18-24, 2013
NEW! Enjoy meeting 10 of your favorite Titanic authors at the Titanic Museum Attraction in Branson on March 18th - 24th, 2013. Come meet these authors, purchase their books, and receive special discounts.
May
NEW! - Teacher Appreciation Week - May 6-10, 2013
June
Father's Day Bass Pro Boat Show - June 15-16, 2013
Free Event! Titanic's Father's Day BASS PRO Boat Show. Back by Popular Demand! We've invited Bass Pro Shops Tracker Boat Center to drop anchor in our parking lot and show off some of the newest, fastest, hottest models on today's market. This exclusive Father's Day event is free and open to the public. Perfect gift for Dad!
August
NEW! - Kids Discovery Day at Titanic Outdoor Event Area - August 10, 2013
September
Night at the Museum Sleepover Event - September 27, 2013
October
NEW! - Young Christian's "Concert on the Bow" - October 5, 2013
Abandon Kansas Group will perform Saturday 8:00 to 10:00 pm.
Call 1-800-524-0222 for tickets
---
---
All packages, lodging, show prices and schedules are subject to change. Please call to confirm specific prices, dates and times.
We will attempt to meet all "Special Requests," however they are NOT guaranteed and subject to availability. We will also work to assist customers in requesting accommodations due to disabilities.
---
For More Information or to Order Tickets, Lodging or Packages Call
1-800-785-1550
We are open 7 days a week.
From 8:00 am - 9:30 pm (CST)
---
---
---
---
---
Branson Tourism Center, 220 Branson Hills Parkway, Branson, MO 65616
Copyright © 2010 Branson Tourism Center. All Rights Reserved. (**)
The current date & time: 05/23/2013 09:49:48