Branson Tourism Center customers needing assistance with flight and car rental, call us toll-free at 1-800-785-2176

Branson Tourism Center is the market leader in providing, affordable deals on vacation packages to Branson. Excellent relationships with the area's top vendors and suppliers allow us to deliver deep discounts for lodging, entertainment, attractions and anything else you would care to see or do during your visit.
Branson Travel Agency is here to help you find the best flights for your Branson vacation. Whether you are booking an airline ticket for you and your family or you need to bring a group of 50 or more, we can help you find the best rates and times that fit your schedule.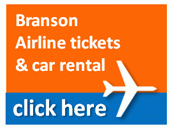 Branson Tourism Center is all you need, to plan your entire Branson vacation from start-to-finish, with NO SERVICE FEES!
Make your reservations with Branson Tourism Center:
Shows
Lodging
Vacation Packages
Then call Branson Travel Agency for quotes on:
Airline Tickets
Car Rental
(click here to find the best deals for flights & car rental in Branson)
For flight and car rental information, call us toll-free at 1-800-785-2176