A+ rated by Better Business Bureau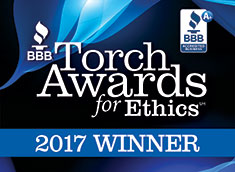 We've been part of the Better Business Bureau since 2003. We are an accredited member and have an A+ rating!
We were also awarded the 2017 Torch Award for Marketplace Ethics.
We can book your tickets to any and every Branson Show & Attraction, and most popular Lodging Properties
We work with every show, theater and attraction in Branson as well as many of the most popular hotels and condos. Let our knowledgeable vacation agents help plan the perfect Branson trip for you!
Our Best Price Promise

Your purchase of tickets, lodging, or packages from Branson Tourism Center will be at our lowest price... guaranteed.
If our price for your identical tickets, lodging, or packages ever goes down after your purchase, we'll refund you the difference when you arrive and check in at Branson Tourism Center.
Branson tickets and lodging sell out frequently. Book your vacation today and rest assured that you are getting the best price we have to offer.
Click Here for Details
No Questions Asked Trip Protection

Book your Branson Vacation Worry-Free because you can cancel at any time. "Premium Trip Protection" may be purchased with any order from Branson Tourism Center for a flat rate of $19.95 (tax included). This allows you to cancel any portion or all of your order for any reason up until noon on the earliest date of your itinerary with absolutely no cancellation fee and a full refund of items purchased on your itinerary.
Click Here for Details
We're Available to you 24 Hours a Day, Seven Days a Week
Our highly trained vacation specialists are here to help you no matter what time it is! Let our very knowledgeable Branson based vacation specialists help you make your Branson vacation the very best.
Over 5 Million Show Tickets Sold
Our vacation agents are very knowledgeable about the shows, the stars, schedules, seating arrangements and anything else you need to know.
We do our best to accommodate your needs. Look at what we can do!
Do you have special requests? We'll do our best to accommodate your needs.

Want to celebrate a birthday, anniversary, honeymoon, wedding or other special event while you're in Branson? Our "Celebrate In Branson" division is dedicated to creating special celebrations for our customers. For more information, visit: CelebrateInBranson.com

Traveling with a group? Our Groups Department can arrange an entire itinerary, special outings and group discounts for groups of 15 or more. For more information, visit: BransonGroups.com