"With school out and families coming to Branson for their vacations, there's a special feeling in the air," said Annette Wood, Director of Sales and Marketing for the Branson Tourism Center. "From Silver Dollar City on the west, to the boats of Main Street Lake Cruises at Branson Landing on the east, it's filled with happy smiling families enjoying each other as they share the fun, excitement and adventure of sharing Branson memories that could last for a lifetime," she added
Along with our highlight list, containing some of the best of what's going on in Branson during June, here's our Featured Show, Limited Engagement, and Event of the Month:
Featured Show of the Month: The whole family, especially the kids will love the Amazing Pets show featuring "more than 30 happy, well-trained critters performing a wide array of tricks" that's a touch of magic, a bit of mayhem, and a whole lot of furry frivolity and fun! "These are everyday house pets! Cats galore, cuddly canines, and even brilliantly colored exotic birds who put on a show that delight's all ages. Well-respected animal trainer, Valery Tsoraev, has created a delightful line-up of animal acrobatics and tricks, and has performed with the famous Cole Bros. Circus of the Stars as well as being featured with one of his incredible cats in the movie, Big Fish. "He has cared for these beautiful creatures, including cats adopted from shelters and those that have simply wandered into his life, and taught them how to entertain and enjoy the affection and encouragement from their human co-stars and their adoring audiences."
Featured Limited Engagement of the Month: Rockapella, formed in the mid-80's, is pretty much the group who wrote the book on making music without instruments. They expertly deliver original compositions, Motown classics, pop, and soul music, all without the aid of the usual guitar, bass, keyboard, and drums making all the sounds themselves. They have enjoyed a phenomenal career since their inception and introduction "to a broad audience on Where in the World is Carmen Sandiego, an incredibly popular PBS show in the 90's." Those loving a cappella music will not want to miss the opportunity to experience Rockapella while it's in Branson for a 25 performance limited engagement, starting on June 13.
Featured Event of the Month: Silver Dollar City Star Spangled Summer Festival, starting June 11 will feature the return of The Harlem Globetrotters, celebrating their 90th Anniversary, The Magic of Peter Gossamer – Up Close & Personal, Championship Cloggers, Meet and Greets and Breakfasts with kid's favorite cartoon characters, and much more. Of course, all this will be in addition to the other 40 rides, attractions, activities, and excitement one would expect from a world class theme park including "the world's most daring wood coaster – Outlaw Run."
LIMITED ENGAGEMENT PERFORMANCES (Sorted by starting date)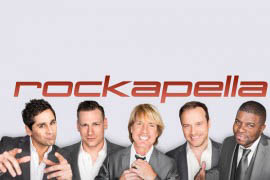 June 10: Diamond Rio
June 13-June 30: Rockapella
June 15: Huey Lewis and The News
June 17: Sara Evans
SPECIAL EVENT HIGHLIGHTS (Sorted by starting date.)
June 2 – June 5: Branson Z Fest
Jun 4: Afternoon Tea – Keeter Center
Jun 11: Run for a Vet; 5K & Half Marathon
Jun 11: Promenade Pop-Up Shop
Jun 11: 32nd Annual Oinklawn Downs Pig Races – Charity Fundraiser
Jun 11 – Jun 18: Law Enforcement Recognition Week Celebration in Branson
Jun 11 – Jul 24: Silver Dollar City Star Spangled Summer Festival
Jun 12: Tanger Club Member Exclusive Event – Bring A Friend
Jun 16: Law Enforcement Recognition Week – Light Cruise Car Parade
Jun 18: 2nd Annual Art Walk – Downtown Branson & Hollister
Jun 18: Branson Landing Celebrates 10 Years Concerts & Fireworks
Jun 18 – Jun 24: Ball Parks of America Opening Week Baseball Tournament
Jun 19: Father's Day
Jun 19: Father's Day Brunch and Car Show at Keeter Center
Jun 19: Chateau on the Lake Father's Day Champagne Brunch
Jun 19: The Taneycomo Festival Jazz Orchestra – Live in Concert
Jun 26: Honor America "4th of July" Celebration – College of the Ozarks
For additional information on these events, or any of Branson's shows and attractions, or for lodging arrangements, please contact the Branson Tourism Center, one of Branson's largest and most respected vacation planning services by visiting www.BransonTourismCenter.com, or calling 1-800-785-1550.
We hope you enjoyed our article! If so, just sign up below for our Free Monthly Branson News and Information Newsletter: