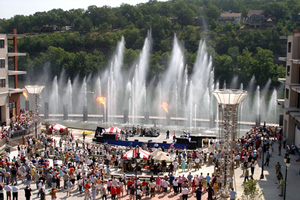 BRANSON, Mo "Memorial Day Weekend in Branson is special," says Levi Kurtright, Director of Marketing for Branson Tourism Center (BTC), one of Branson's largest and most respected vacation planning services. "Not only is it a long weekend, but it signifies the beginning of the summer outdoor season in Branson that highlights one of the most unique aspects of what Branson has to offer, the natural outdoor beauty of the Ozarks."
From its most popular and endeared attraction, Silver Dollar City, to its newest and biggest shopping mall, Branson Landing, Branson's blend of natural beauty and lakes with everything else that Branson offers makes it a special unique family destination. What other major tourist destination offers the choice of great live entertainment, attractions, shopping and activities that Branson does all amid the natural wonder and beauty of a place like the Ozarks and less than five minutes from a pristine 43,000 acre lake?
"There are very few theme parks in the country, perhaps in the world," said Kurtright, "where the surrounding natural environment has been integrated into the park the way it has with Silver Dollar City." The view from the loops on its multi-loop world class coaster "Wildfire" is spectacular not only because of its beauty, but that it is combined with one of the most thrilling and exciting coaster rides available anywhere and is one illustration of how nature, Branson and the summer outdoor season go together.
Silver Dollar City's "Bluegrass and BBQ Festival," featuring over 50 Bluegrass bands and groups presenting hundreds of performances of Bluegrass music throughout the park as well as succulent BBQ served with a choice of over 100 sauces, runs from May 12 through May 30. Among other the Bluegrass groups,"Lonesome Road;" "Missouri Boatride;" "Junior Sisk & Ramblers Choice;" "The Grascals," 2010 SPBGMA Bluegrass Band of the Year and the "Peterson Family," winners of the "2010 Branson CAM Gospel Sing Off," will be appearing during the Memorial Day Weekend.
Table Rock Lake provides Branson locals and visitors alike with 43,000 surface acres of potential aquatic fun, excitement and adventure. Memorial Day Weekend is the unofficial kick off a summer of fun on the lake including sunbathing, swimming, boating, water skiing, scuba diving and just about any other summer water activity a person would want to get involved in.
And speaking of water, Branson's biggest water park, "White Water," also will be open over Memorial Day Weekend. White Water offers more than two million gallons of water excitement and fun for Branson visitors featuring "Kalani Towers," a 7- story, 6- slide thrill ride and more than a dozen rides. The 12 acre attraction has 7,000 feet of water slides all set in a tropical theme, a play area for toddlers and will be opening up its new "Aloha River at Hula Hula Bay" ride for the 2011 season. The Polynesian jungle themed ride has over 800 feet of "unexpected twists and turns, fountains, misters, bubblers, geysers, a 30-foot tall tiki water tower and more."
From great golfing, ziplines, hiking, boating, fishing and just about any other outdoor activity a person could want Branson has it all. "The really nice thing," says Branson Tourism Center's Kurtright "is how all the outdoor activities combine with Branson's live shows, attractions, shopping and other exciting activities to provide a unique vacation experience not available anywhere else.
Kurtright points out  that Memorial Day Weekend is one of Branson's busiest weekends and suggest advance reservations for lodging and shows to ensure availability and the best accommodations and seating. For additional information or tickets for any of Branson's shows, attractions and activities or for lodging arrangements please contact the Branson Tourism Center by either calling their toll free number 1-800-785-1550 or through their website www.BransonTourismCenter.com.
We hope you enjoyed our article! If so, just sign up below for our Free Monthly Branson News and Information Newsletter: