"What you see is what you get" is a common expression. With Clay Cooper the man, what you see and get is one awesome individual. With Clay Cooper the performer, what you see and get is one awesome entertainer. With Clay Cooper's Country Express, what you see and get is two hours of some of the most awesome entertainment on any Branson stage. It's an express ride that simultaneously entertains adults and children alike with a constant variety of great music, superb dancing, comedy, fun, laughter, and joy.
Clay Cooper is the Engineer on this entertainment express, powering it with his extraordinary personality and musical talent. Whether its Garth Brook's Thunder Road or the shows finale, an original song, America Stand Strong, written by his wife, Tina, Clay's musical talents are as obvious as they are a pleasure to hear.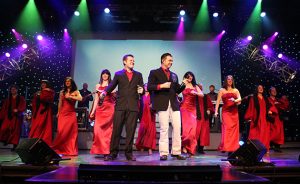 And, it doesn't stop with just musical talent. His innate ability to relate to his audience and draw them into their own entertainment experience is amazing. Each performance is as different as a snowflake as he goes into the audience and interacts with them. His uses a warm, comfortable, and friendly style, that has everyone relaxing, having fun, and laughing. No funny costumes or skits, just the heart of the man interacting with the hearts of his audience. It is truly a joy to experience!
Another unique and awesome aspect of this show is its dancers. The show's choreographer is Tina Cooper. She's not only a graduate of the University of Oklahoma, with a "Bachelor of Fine Arts Degree in Music Theatre and a Minor in Dance," but an accomplished dancer with extensive dancing and show experience.
Dancing is woven into many of the numbers in the show, some as a feature and some subtly, but in every case adding another entertaining element to a great show. The dancing performance while Clay is singing Garth Brook's Thunder Road was exquisite and is a perfect example of how much the dancing enhances the overall enjoyment of the show and what makes this show so unique and special.
For most shows that would be enough, but not on Clay Cooper's Country Express! Longtime Branson favorite, Kari Garrison is the featured female vocalist. Clay Cooper's Country Express Band features some of the finest musicians in Branson. Johnny Lonestar's gun slinging, whip, and rope act is amazing.  The talented and versatile Matt Gumm does everything from comedy to playing the Hammered Dulcimer and he does it well.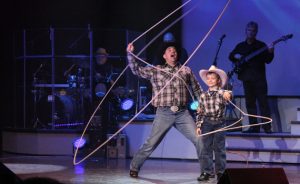 This is one of the few Branson musical shows, variety or otherwise, with the ability to simultaneously entertain both kids and adults throughout the show. From a vocal perspective, the show features quality "peer to peer" performances and appearances by Colt Cooper, Ezrah Noelle, Cadin Cooper, and Rosie Cheek.  Johnny Lonestar's act and Matt Gumm's routines appeal to both kids and adults alike. The pace of the show, its variety, costuming, dancing, and constant action also hold the interest and appreciation of kids and adults alike.
This show is an "express" ride through two plus hours of the most engaging, energetic and talented entertainment available in Branson. It's hosted by a performer who can work an audience as beautifully as he sings and his wife choreographs and dances. It's just keeps getting better and better, you don't want to miss this show!
For more information on the Clay Cooper's Country Express Show, or tickets for any of Branson's shows or attractions, please contact the Branson Tourism Center. You may talk with them personally through one of their Branson based Vacation Specialists by 1-800-785-1550 or through their website www.BransonTourismCenter.com.
We hope you enjoyed our article! If so, just sign up below for our Free Monthly Branson News and Information Newsletter: