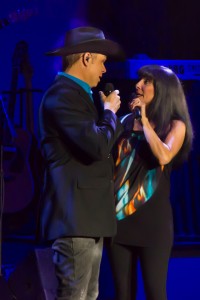 Having just seen the Clay Cooper's Country Express Show on Aug. 24 the only way I can describe it is by saying, "WOW!" When you take an entertainer like Clay Cooper and blend in a great band, some of the best dancers and choreographed dance routines in Branson, the comedy of Matt Gumm, the rope and gun handling performance of Johnny Lonestar and the strategically placed vocal performances of other cast members, it is over two hours of the finest nonstop "express," or otherwise, entertainment in Branson.
The "engineer" of this "express," at least while on stage, is the show's star, Clay Cooper. From his "zipping" entry onto the stage and the show's full cast opening number, "Fever" until his performance of the original song, " America Stand Strong," written by his wife Tina, in the show's patriotic finale, Clay's vocal talents and charisma are the "tracks" upon which this express speeds along.
During the show he performs a number of vocals covering a variety of musical genres with, the emphasis on country music performed as only he can. From among many, my two favorites were the Hank Williams hit "Kaw-Liga." Loved the whole number, but wait for "the notes." You'll know what I mean when you hear them. His performance of the Roy Orbison hit "Crying" was beautifully done and was yet another demonstration of Clay's vocal range and talent.
As remarkable as his singing is, it is surpassed by his personal charisma and ability to not only relate to the crowd, but interact with them in a way that entertains the whole audience. In the past I have described it as that "innate Neil McCoy ability to relate to his audience and draw them into their own entertainment experience," but Clay takes it a step beyond. He triggers responses from audience members that lets him interact simultaneously with them personally and the audience with a warm comfortable humor that has everyone laughing, having fun and wondering what is coming next.
And Clays not the only one performing vocals. R. P. Harrell's performance of "Bowed On My Knees and Cried Holy" during the Gospel segment of the show was simply beautiful and I loved  "Down By the Riverside" performed acapella by "the girls." Among others the vocal highlights include Matt Gumm's performance of "I Want Crazy," ten year old Colt Cooper's performance of "Rockin Robin" and 11 year old Ezrah Noelle's performance of "He Taught Me How To Yodel."
This show should have a lot of appeal for kids. There is constant action, color, dancing and a number of costume changes which helps holds the attention of adults and kids alike. In addition with acts like Johnny Lonestar, Matt Gumm's "horn" routine and strategic "peer to peer" performances of Colt and Ezrah along with an assist from young Master Caden Cooper,  kids are entertained, simultaneously with adults throughout the show.
A unique aspect of this show is its dancing troupe. It's choreographer, and one of the dancers herself is Tina Cooper, who has been dancing professionally since 1989 and holds a "Bachelor of Fine Arts Degree in Music Theatre with a Minor in Dance" from the University of Oklahoma. The way the dance routines are seamlessly integrated into almost every vocal performance, whether it's one or two of the dancers or the whole troupe is a thing of beauty, adds so much to the show and easily sets it apart from every other country music show most of us have ever seen.
And it's not just the dancing, it is the way they dance; no matter what style, it is done with an energy, race and precision that demonstrates why they are one of the top dancing troupes in Branson. Although there are many dancing highlights, their performance during the show's opening number, "Fever" and "House Is A Rocking" illustrate their talent, choreography and how much it adds to the total entertainment experience the show provides. In addition to Tina Cooper, the "Country Express Dancers" include Jenn Turner, Kelly Smith, Kristen Chandler, Elizabeth Harris, Lara Moffett Menard, Matthew Smith, Todd Coker, Clark Roberts, Nate Bittner and Sarah Blackerby.
The "Country Express Band" consists of R.P. Harrell, piano and Musical Producer; John Lance, keyboard and vocals; Barry Bales guitar and vocals; Dave Clark, bass guitar, Mark Pearman fiddle and steel guitar and Grant Moody, utility player. Although their talent is obvious throughout the whole show it is highlighted in their performance of the Doobie Brothers' "Long Train Running." Dave Clark's bass guitar solo performance of "Amazing Grace" was as beautiful as it was unique.
I would be remiss if I did not specifically mention the outstanding job that that the versatile Matt Gumm did throughout the show. From the preshow comedy and his extremely entertaining "Teamwork" piece to his "wind instrument audition" piece he demonstrates his comedic talents which when combined with the subtle comedy of Clay, as he interacts with the audience, creates one of the funniest shows in Branson. Gumm's talents do not stop there however, as he also sings and is featured playing the drums and hammered dulcimer in the show.
In my last "review" of this show I wrote, " From before the curtain goes up until it drops this show is an "express" ride through two plus hours of the most engaging, energetic and talented entertainment available in Branson hosted by a performer who can work an audience as beautifully as he sings and his wife choreographs and dances." After seeing the 2014 edition of this outstanding show there is not one word that I would change except to add "Wow!" before the word "From."
For additional information on the Clay Cooper's Country Music Express Show or tickets for any of Branson's shows and attractions or for lodging arrangements please contact the Branson Tourism Center, one of Branson's largest and most respected vacation planning services by calling 1-800-785-1550 or through its website.
We hope you enjoyed our article! If so, just sign up below for our Free Monthly Branson News and Information Newsletter: