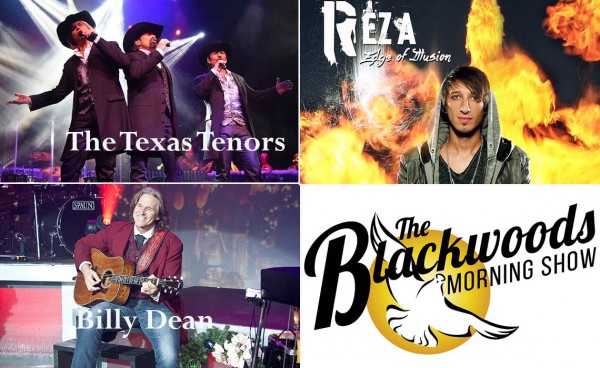 "I am just so excited about the variety, quality, and timing of the entertainment we are presenting at the Starlite Theatre this year," said Linda Merkling, the theatre's General Manager. "We have the right talent for the right people at the right time of the year," she added.
She points out that their resident shows, those other than one or two-day limited engagement shows, offer an unrivaled variety of quality entertainment. Anchoring the schedule from now until December 30 are such nationally recognized entertainers as Billy Dean, The Blackwoods, and The Texas Tenors. The young cutting edge illusionist Reza and Buckets N Boards, a show that is one of the most requested show on Disney Cruise Lines, will be on the schedule during the months when families and younger audiences are in Branson. The net result is one of the most dynamic, demographic responsive, and exciting line ups of any theatre in Branson.
Merkling points out that the Billy Dean and Jarrett in Concert show is a mainstay on the schedule. For 2016 Billy has completely redone the format to provide a more intimate and personal interface with the audience, including him playing the piano. The show provides a unique opportunity to hear the man who wrote them sing, hit after hit, including Let Them Be Little; Somewhere in My Broken Heart, Billy The Kid, and his debut single, Only Here for a Little While, a song that grabbed an impressive top five spot on Billboard's Country Charts along with many more.
The music would be enough, but it's his ability to connect with the audience on a personal level through that music, and the stories of his life and how the songs were written, that injects a unique special element to the show. Add the comedy of long time Branson favorite Jarrett Dougherty, with his funny characters, rapid-fire wit, and perfect comedic timing, honed by more than 20 years on the Branson stage, and you have a show with about as much fun, excitement, and entertainment as most people could ever want!
Here's a list of the Starlite's resident shows sorted by opening date along with a link that provides more information on the show including a description, scheduling, pricing, and ticketing:
Resident Shows:
Billy Dean in Concert with Jarrett: Through Dec 30
Reza Edge of Illusion: Through Sep 7
The Blackwoods Morning Show: Through Dec 30
Buckets N Boards: Apr 20-23 and Jun- Aug 12
The Texas Tenors: Apr 26-May 13, Jun 6-10, Sep 12-Nov 30*
"We are also excited about the array of National stars that will be rounding out our schedule with limited engagement performances throughout the year through 'Boot Daddy Presents' and 'Larry's Country Diner Series,'" Merkling said. Here's a list of the Starlite's limited engagement shows sorted by opening date along with a link that provides additional information on the show including a description, scheduling, pricing, and ticketing:
 Limited Engagement
Larry's Country Diner-T. Graham Brown: May 2 & Sep 23
Larry's Country Diner-Jimmy Fortune: May 3 & Sep 21
Larry's Country Diner-Gene Watson: May 4 & Sep 20
Larry's Country Diner-Mark Wills: May 6
Boot Daddy Presents Branson Gospel Reunion: May 6 & 7
Larry's Country Diner-Mo and Holly Pitney: May 6 & Sep 22
Larry's Country Diner-Mark Lowry: May 7 & Sep 24
Boot Daddy Presents Dailey & Vincent: May 20 & 21
Boot Daddy Presents Gene Watson: Apr 22 & 23
Boot Daddy Presents Jason Pritchett: May 30, Jun 25 & Jul 30
Larry's Country Diner-Rhonda Vincent: Sep 19
Boot Daddy Presents Suzy Bogguss: Sep 29 & 30
Boot Daddy Presents Jimmy Fortune: Oct 24 & 25, Nov 14 & 15
Merkling believes that the combination of resident and limited engagement shows at the Starlite provides a unique combination of entertainment designed to meet the different needs of the Branson visitor throughout the year that is unmatched in terms of its quality, variety, and excitement. She also points out that its central location right on the famed Branson Strip, near its intersection with Gretna Road, the Titanic Museum Attraction, the Clay Cooper Theatre, and numerous other Branson shows and attractions makes access to the Starlite a breeze. With a twinkle in her eye she said, "And our parking lot just might be the biggest flat piece of ground in Taney County, no hills to climb."
For additional information or tickets for any of the Starlite's Shows, please feel free to contact the Branson Tourism Center, one of Branson's largest and most respected vacation planning services; call 1-800-785-1550 or visit www.BransonTourismCenter.com.
*All November shows will be Christmas Shows
We hope you enjoyed our article! If so, just sign up below for our Free Monthly Branson News and Information Newsletter: