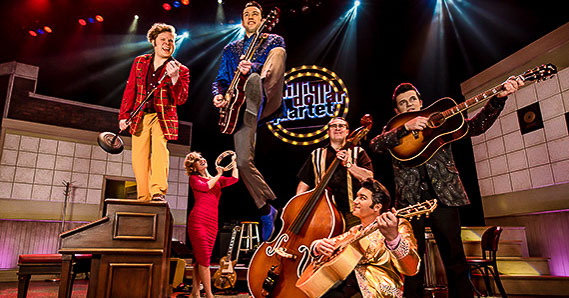 Among the greatest jam sessions in rock n' roll history was a spur of the moment jam session of four young recording legends-to-be, Elvis Presley, Johnny Cash, Carl Perkins, and Jerry Lee Lewis, that took place inside the Memphis storefront recording studio of Sun Records on December 4, 1956. Even more remarkable is that, except for a single newspaper article and its accompanying photo, dubbing the four "The Million Dollar Quartet," the jam session went unnoticed for decades until a recording of it was discovered in the Sun Records library and released in Europe in 1981. That jam session and recording became the inspiration for the Tony Award winning musical Million Dollar Quartet.The show shares the music, spontaneity, and drama of what took place that December day when these four legends performed together for their first and only time.
For over three decades, I've seen Branson shows of all types, but in all of that time I have never seen a show like the Million Dollar Quartet. Its outstanding cast; timeless music that just about everybody knows; and a| wonderful storyline combines with its unique set into an extraordinary entertainment experience that the entire family will enjoy.
Some might ask, "Will my kids like it; it was over 50 years ago, by performers, some of whom my kids might not recognize, and is a genre of music that is not popular with today's kids?" In a recent interview, with Ryan Pelton, the extremely talented Elvis Presley Tribute Artist currently appearing in the Branson's Legends in Concert show, was asked, "Why would kids like this show [Legends in Concert]? He replied, "Kids might not know who some of these stars are, but good music is just good music and kids appreciate that. Bruno Mars started as an Elvis impersonator and he's one of the most popular stars today." More to the point, "Carol C," who recently attended the Million Dollar Quartet, with her husband and 14 year old daughter said that her daughter just loved the show with its music and the dramatic interplay between the characters.
Clearly, with four recording stars represented in the lead roles, plus the iconic music being performed, it requires some extremely talented entertainers to do it all justice. Tyler K. Hunter as Elvis Presley, Cliff Wright as Johnny Cash, John Countryman as Jerry Lee Lewis, and Brad Waters as Carl Perkins do an outstanding job with hits including "Matchbox," "That's All Right," "I Walk The Line," "Ghost Riders in the Sky," "Hound Dog," "Peace in the Valley," "Whole Lotta Shakin Goin On," "Blue Suede Shoes," and many more. From among them, two of my personal musical highlights are "Ghost Riders In The Sky," sung by Johnny Cash| and "Peace in the Valley," not simply because| of the way it was sung, but how the storyline integrated a personal memory from each of the performers seamlessly into its performance. It was a special moment.
As amazing as the music is, it's the storyline, the historical moment it describes that's so expertly woven in to the musical tapestry surrounding it that makes this such an entertaining show. Matt Joyce as Sam Phillips, the founder of Sun Records, the man many call the "Father of rock n' roll," and the person who essentially set the circumstances in motion that ultimately lead to the jam session, does an excellent job of telling the story in a manner that ties all its diverse elements together and holds the audience's interest throughout.
And what a story it is! Filled with fascinating historical facts and antidotes about not just simply what happened that day, but the stars themselves, a hint of romance, the mechanics of how the record business worked in those early years, and beginning history of rock n' roll. This includes the part Sam Phillips played in bringing the four together that day; the answer to the question on everyone's mind at the time, "Why did Phillips sell Elvis Presley's contract to RCA for $40,000 in 1955?" the angst Carl Perkins, the old man in the group at age 24, felt towards Elvis Presley over Blue Suede Shoes; why Johnny Cash was leaving Sun Records for Columbia Records; the jealousy some felt regarding the emphasis Phillips had placed on Elvis Presley, and much more. Watching the connection between Jerry Lee Lewis, the not so bashful rookie in the group ,evolve is as interesting as it is entertaining.
Lindsey Perenchio as "Dyanna," does an awesome job, not only in her role as the girl Elvis was with that night, but in interacting with the four musical icons and Sam Phillips and adding a dramatic element with a hint of romance and "commonsense" to the show. Her performance of "Fever" also demonstrates her considerable vocal talents and is yet another example of how she enhances the shows overall entertainment experience. Daniel Dossey plays the drummer, W.S. Fluke Holland, with Austin Wilson rounding out the cast as Jay Perkins, the bass player and brother of Carl Perkins.
How a simple recording session by Carl Perkins, with his brother and a drummer, evolved into what is perhaps history's greatest  rock n' roll jam session, as presented in the Million Dollar Quartet, is as wonderfully entertaining as it was unlikely to have occurred in the first place. From beginning to end its nonstop music, fun, drama, and entertainment with no intermission. Oh, and when you think the show's over, hold onto your seat and remember the old Yogi Berra saying, "It ain't over| till it's over." We don't desire to spoil the surprise, so just "Wait for it!" It's a grand ending to a totally delightful and absolutely entertaining show!
For more information or tickets for the Million Dollar Quartet please contact the Branson Tourism Center, one of Branson's biggest and most respected vacation planning services, by calling 1-800-785-1550, or going to www.BransonTourismCenter.com.
We hope you enjoyed our article! If so, just sign up below for our Free Monthly Branson News and Information Newsletter: