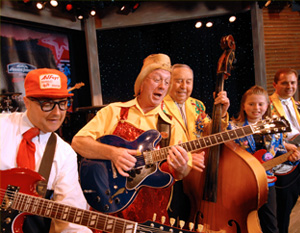 Two firsts joined together to provide another first when "Presleys' Country Jubilee Television Show," live from Branson, Missouri, first aired on the "RFD-TV Network" on March 6 of 2010. When the world's first 24 hour rural TV network combined with Branson's Presleys' Country Jubilee, the first show on the now famous Branson Strip, the result was the telecast of the first Branson show to have its own regularly scheduled show on a national TV network.
In a recent interview with Steve Presley, one of the original co-founders of the Presleys' Country Jubilee, he said that the TV show stems from a relationship that was established between Patrick Gottsch, the founder of RFD-TV, and the Presleys' almost from his first days in Branson. In announcing the initial show Gottsch said, "The Presley family is an absolutely perfect fit for RFD-TV. Our audience loves country, gospel, bluegrass, and family-oriented humor. To have all these interests combined into one, terrific, fast-paced show with the Presley touch is sure to be a hit."
"When the opportunity with RFD-TV came about, with its reach into over 40 million households in the United States and even more internationally, it just seemed like a natural fit for our show and Branson," said Presley. "We saw an opportunity to reach potential Branson visitors before they came to Branson by giving them a snippet of what the Presley show is like and highlighting other Branson shows, attractions and activities." He indicated his hope that the result would be to bring more people to Branson to experience not only their show, but everything else that Branson has to offer.
He said that they went on the air on RFD-TV on March 6, 2010 and filmed their first season of 26 half hour episodes, each of which has aired twice. They are currently filming episodes 31 and 32 of their second season. All the programs are filmed in the Presleys' Theatre on the famed Branson Strip and are a natural extension of their live show.
The show uses the same successful format that has made them a Branson standard for over for 45 years, a variety of music, vocals and instrumentals, from country to pop and gospel with just about every music genre in between and their unique brand of comedy provided by Herkimer and Cecil (Gary & Eric Presley). In addition, the TV show usually includes the addition of a guest performer each week who is either a regular Branson performer or a performer currently performing in Branson.
Steve who has been performing as the drummer in the show since he was ten years old said, "I've learned more new songs over the last year than I have in my whole career." He points out that the development of the new material for the TV show has given them even more opportunity to experiment and add new material to their Branson show almost on a weekly basis.
The "Presleys' Country Jubilee TV Show" is broadcast every Saturday night at 6:30 Eastern Time and 7:30 Central Time on RFD-TV. For additional information or tickets for the Presleys' Country Jubilee in Branson or any of Branson's other shows and attractions or for lodging arrangements please contact the Branson Tourism Center (BTC), one of Branson's largest and most respected vacation planning services by either calling their toll free number 1-800-785-1550 or through their website www.BransonTourismCenter.com.
Photo courtesy of Presleys' Country Jubilee
We hope you enjoyed our article! If so, just sign up below for our Free Monthly Branson News and Information Newsletter: