"April is the month where our Ozark Hills bloom into the full freshness and beauty of spring," said, Annette Wood, Director of Sales and Marketing for the Branson Tourism Center. "April is also when Branson's shows and attractions 'burst into the bloom' of their 2017 seasons," she added.
Here's our Featured Show and Event of the Month, with a list of the highlights of special events you can enjoy in Branson during the month of April: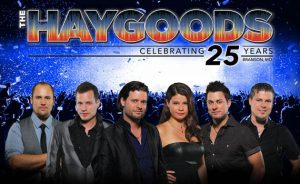 Featured Show of the Month: The Haygoods are celebrating their 25th year of entertaining Branson Audiences in 2017. Starting as youngsters at Silver Dollar City, these incredible artists have developed a unique iconic style of quality high energy entertainment. They are constantly re-energizing and changing their performances throughout the year to meet the expectations of their anticipated audience. How good is this show? When I saw it, I wrote, "Based on over 30 years of seeing Branson shows, I can testify to the fact that it's, "Really terrific!" A WOW, WOW, and WOW, on a Three WOW Scale with three WOWs being as high as you can get! From the "Get go," its two hours of the most unique, innovative, talented, energetic, personable, and exciting entertainment you will ever experience on a Branson stage.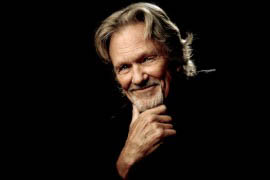 Featured Limited Engagement of the Month: Kris Kristofferson for one night only! Heralded as an artist's artist, the three-time GRAMMY winner wrote and recorded the hit songs Me and Bobby McGee, For the Good Times, Sunday Mornin' Comin' Down and Help Me Make It Through the Night. In addition to many other awards, Kristofferson is a member of the Country Music Hall of Fame, winner of the prestigious Johnny Mercer Award from the Songwriter Hall of Fame, and was honored with the American Veteran's Association's "Veteran of the Year Award" in 2002.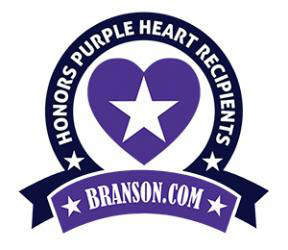 Featured Event of the Month: Branson.com Honors Purple Heart Recipients, Thursday, April 20 through Saturday, April 22. It's a unique event remembering, honoring, serving, and entertaining those receiving the 'Purple Heart' as the result of combat wounds suffered while serving in the U.S. Armed Forces. It's designed to allow time for the attendees to spend time with one another, experience Branson, and participate in events that honor, entertain and support them. All the activities are free to Purple Heart Recipients. For additional information or to Register, please call 1-800-268-4014 or go to the Branson.Com Honors Purple Heart Recipients website.
Limited Engagements (Sorted by starting date.)
Apr 7: Kris Kristofferson
Apr 7: The Dean Z Show
Apr 8: Ultimate Elvis Tribute Contest
Apr 12: Ricky Nelson Remembered
Apr 19-20: Boot Daddy Presents Gene Watson
Apr 21-22: Oak Ridge Boys
Apr 21-22: Branson Music Fest
Special Event Highlights (Sorted by starting date.)
Apr 1-2: Big Bass Tour Table Rock Tournament
Apr 1-May 31: Ozark Mountain Shindig Festival
Apr 6-8: 2017 Kenneth Copeland Branson Victory Campaign
Apr 6-30: Silver Dollar City Presents a Festival of Wonder
Apr 8: FLW Ozark Division Bass Fishing Tournament
Apr 8: C.A.M. Benefit Trout Tournament
Apr 8: Easter Bunny Festival
Apr 15: MCDA Cheer and Dance Championships
Apr 15: Hollister Easter Egg Hunt
Apr 15: Branson RecPlex Easter Egg Hunt
Apr 15: Easter Egg Hunt – Rockaway Beach
Apr 16: Easter Cruise on Main Street Lake Cruises Landing Princess
Apr 16: Easter Shopping at Tanger Outlets
Apr 16: Easter Brunch at Chateau on the Lake
Apr 16: Easter Weekend in Branson
Apr 16: Keeter Center Easter Brunch
Apr 17-Apr 23: Legends of Golf Presented by Bass Pro Shops
Apr 19: College of the Ozarks to dedicate The Missouri Gold Star Families Memorial
Apr 20: Hootenanny in the Park
Apr 20-22: Branson.com Honors Purple Heart Recipients Weekend
Apr 21-22: Branson Music Fest
Apr 21-22: The Branson Collector Car Auction
Apr 21-23: Taneycomo Throwdown
Apr 27-28: JMH Righteous Revolution Rally
Apr 29: Kayak Branson's Biggest Flotilla Adventure on Lake Taneycomo
For additional information on these events, or any of Branson's shows and attractions, or for lodging arrangements, please contact the Branson Tourism Center by visiting www.BransonTourismCenter.com, or calling 1-800-785-1550 and talking with a Branson-based vacation planning specialist. They will be delighted to answer any questions, and assist you with show or lodging reservations and there's absolutely no charge for this service
We hope you enjoyed our article! If so, just sign up below for our Free Monthly Branson News and Information Newsletter: