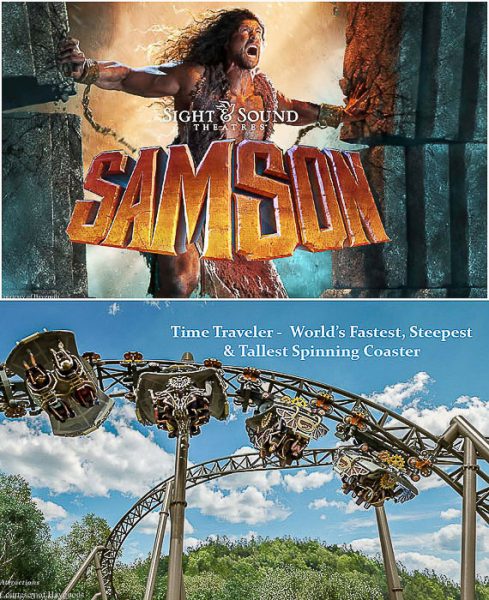 "There's always something new and exciting in Branson; 2018, is no exception," said Preston Garrison, Business Unit Manager for the Branson Tourism Center. "Two of the most anticipated events of 2018 are the Branson premier of Sight and Sound's spectacular stage production of Samson on March 3 and the opening of Silver Dollar City's world record setting 'Time Traveler' spinning coaster, scheduled for March 14," he added.
Sight and Sound Theatres, noted for its spectacular productions, will be premiering Samson in Branson on March 3. It presents the story on a  "jaw-dropping scale as it's brought to life by a world-class cast, spectacular special effects, and live animals – on stage and in the aisles. It's an unforgettable, uplifting thrill ride that literally brings the house down!…As Samson battles the Philistines – and his own personal calling – he soon falls prey to temptation, losing his strength and sight. But he never stops hoping. He's a frequent failure and an underachiever yet, in the New Testament book of Hebrews, 'Samson' is included on the all-star list of faith. Discover how God transforms this unwilling hero to accomplish His work."
Those planning to see Samson might also want to take the special Behind the Scenes Tour of the production. "A million watts of lights, sixty-thousand watts of sound, a massive stage over twenty-thousand square feet in size that wraps around the audience on three sides and four-story tall set pieces towering right in front of you." It has exclusive backstage access to everything that happens behind the scenes.
The Behind the Scenes Tour is available with the purchase of regular season ticket. Arrival time is at 12:30 pm, the tour begins at 1:00 pm, and lasts 1 hour.
Silver Dollar City's new $26 million Time Traveler coaster is the world's fastest, steepest, and tallest spinning coaster. "It's a revolutionary coaster ahead of our time, and there's only one place on the planet to experience it; that's here in Silver Dollar City!" said Brad Thomas, President of Silver Dollar City Attractions.
The Time Traveler, is a world-record-breaking spinning coaster from many different aspects. With a top speed of 50.3 miles per hour, it will be the fastest and its ""immediate out-of-the-station 10 story, 90 degree vertical drop"… straight down the Ozark mountainside, is the steepest drop. Other "first and only" features include three inversions, a Dive Loop, Vertical Loop, and a Zero-G Roll; a 95-foot tall Vertical Loop; and a double launch. It's first day of operation is scheduled to be in conjunction with the opening of Silver Dollar City's 2018 season on March 14.
For additional information on Samson, Silver Dollar City or for lodging arrangements, please contact the Branson Tourism Center by visiting www.BransonTourismCenter.com, or calling 1-800-785-1550 and talk with a Branson-based vacation planning specialist. They will be delighted to answer any questions, and assist you with show or lodging reservations. There's absolutely no charge for this service.
We hope you enjoyed our article! If so, just sign up below for our Free Monthly Branson News and Information Newsletter: