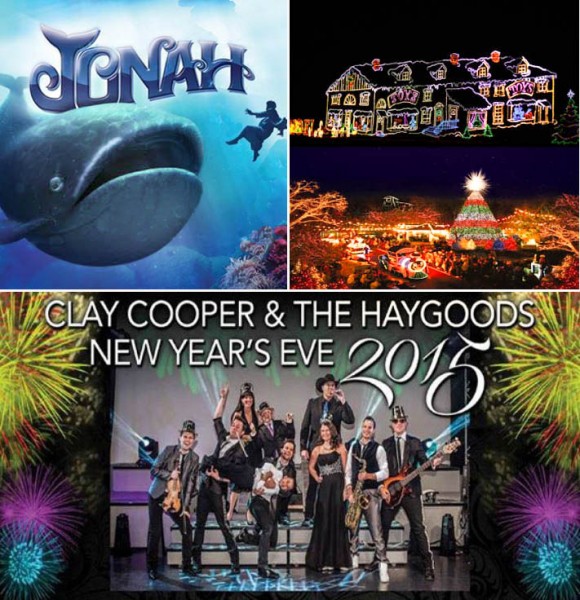 "The highlight of December in Branson is Christmas," said Annette Wood, the Director of Sales and Marketing for the Branson Tourism Center. "From its fun, excitement, and entertainment to the celebration of the real reason for the season, Christmas in Branson is special and unique," she added. Wood points out that many of Branson's most popular shows, and the majority of its attractions, shopping, and other activities, are open throughout the Christmas season.
Here's our Featured Show, Limited Engagement, and Event of the Month, along with a list of the major events you can enjoy in Branson during December, 2015:
The Featured Show and Featured Limited Engagement of the month are the same – Sight & Sound's biblical spectacular, Jonah. It's one of the most phenomenal productions ever performed on a Branson stage, and will hold its last performance here on December 31. In a review of the show, I wrote, "It's hard to imagine a show with a greater appeal and spectacle than Jonah as it brings to life, and illustrates, one of the greatest biblical stories of all time – the lesson one of God's own prophets had to learn about His mercy and love for us, even as he tried to run from it. The magnificent and spectacular way the story comes to life is unlike anything that most people will ever see live on stage; a pure joy to experience, and something every member of the family will treasure and remember for a lifetime!" If you haven't seen it, don't miss it!
The Event of the Month is Christmas Week in Branson, the week between Christmas and New Year's Day. From Silver Dollar City's Old Time Christmas to Branson's most talked about new show, the Million Dollar Quartet, and all the excitement, adventure, and shopping that Branson is noted for, topped off by a variety of New Year's Eve celebrations, Christmas Week in Branson offers a unique experience unlike any other.
LIMITED ENGAGEMENT HIGHLIGHTS (Sorted by starting date.)
Dec 1 – 3                           Yakov – Wake Up with Yakov
Dec 1 – 2                           Jerusalem performed by Dudu Fisher
Dec 3 – 6                           Limited Engagement – Boot Daddy Presents Gene Watson
Dec 5                                 Moon River and Me
Dec 5                                 Craig Wayne Boyd
SPECIAL EVENT HIGHLIGHTS (Sorted by starting date.)
Dec 1 -Dec 27             Ozark Mountain Christmas Lights & Village
Dec 1 – Dec 30           An Old Time Christmas Festival at Silver Dollar City
Dec 1 – Dec 31            Christmas and Winter Celebration at Titanic Museum Attraction
Dec 1 – Dec 31            Branson Landing's Winter Wonderlanding!
Dec 1 – Dec 31           7th Season of White Flight at The Butterfly Palace
Dec 1 – Dec 31            Shepherd of the Hills Trail of Lights
Dec 25                         Chateau on the Lake – Christmas Day Brunch
Dec 2 – Dec 3              Yuletide Feast – Keeter Center
Dec 6                           Carols on the Belle on the Showboat Branson Belle
Dec 6                           67th Annual Adoration Parade & Lighting Ceremony
Dec 13                         Tanger Club Ladies Night Out – Tanger Outlets
Dec 13                         Carols on the Belle on the Showboat Branson Belle
Dec 25 – Dec 31          Christmas Week in Branson
Dec 25                         Christmas Day Champagne Brunch at Chateau on the Lake
Dec 28 – Dec 31         Rock, Shop, and Recovery at Tanger Outlets
Dec 31                         New Year's Eve Dinner & Dancing – Keeter Center
Dec 31                         New Years Eve Shows:
Clay-Goods Jambor-Eve
Doug Gabriel's #1 Hits Tribute Show
Grand Jubilee
Hughes Brothers
Legends in Concert
Million Dollar Quartet
Pierce Arrow
Hamners' Unbelievable Variety
Due to the possibility of inclement weather, seasonal show schedules, and the fact that some Branson lodging facilities are closed, Branson Tourism Center's Wood suggests that an easy way to avoid problems is to make sure you have the most current information; you'll save time and, in many cases, money, by simply calling the Branson Tourism Center toll-free at 1-800-785-1550. A Branson-based vacation planning specialist will be delighted to answer any questions, and assist you with show or lodging reservations. There is absolutely no charge for this service.
We hope you enjoyed our article! If so, just sign up below for our Free Monthly Branson News and Information Newsletter: