For many, "an ideal family day in Branson would be one where the whole family had fun and made great memories together." The great news is that with all the live shows, attractions, shopping, and other things that Branson has to see and do that's not hard to have happen, but what would an ideal family day in Branson consist of, in terms of activities for the whole family to enjoy together?
There obviously is no one right answer because of the variables that could come into play such as weather, age of children, budget limitations, etc. Although there's many different ways to plan an ideal family day in Branson, here's one approach; dividing the day into three time periods Morning, Afternoon, and Evening with suggestions for an Attraction and one or more Shows for each time period.
MORNING
Attraction: Fun Spot Farm Mini Golf is a unique course offering fun for everyone in the family. It hass "two different 18 hole courses featuring life size whimsical and animated farm animals, a milk shed, water tower, horse barn, ponds, windmill, outhouse and a chicken coop. Sensors bring this outdoor course to life by setting off sound effects and animations throughout the game. It's the first course in Branson to feature a championship style layout. Dependent upon skill levels, players putt into one of two cups, making the course playable for beginners and small children, while creating a challenge for the most advanced players."
Show: Amazing Pets features dogs, cats, and beautiful flying birds delighting the audience with their performance. Trainer Valery Tsoraev has combined the antics of his well-trained cats and dogs, with costuming, and choreography into a unique unbeatable entertainment experience that kids, as well as the adults who brought them, just love. The interaction between the show's host, the affable "Apple Jack," played "from the heart" by Shannon Thomason, and the audience is filled with fun and keeps things moving along between the animal acts. It's a show made even more special because over 80% of the dogs and cats in it were recused by Valery and his family from shelters.
AFTERNOON
Attraction: Main Street Lake Cruises Lake Queen is a 140 passenger riverboat replica offering a one of a kind sightseeing cruise on Branson's beautiful Lake Taneycomo. Your well-informed, extensively trained, and certified boat captain guides you safely along the flowing waters of the river-like lake, while sharing stories about the lake, landmarks you'll encounter along the way, and the wildlife that make their home on this unique lake. You will see birds, water fowel, and other wildlife that abound on Lake Taneycomo and its shoreline; these sightings may include deer, River Otters, the Great Blue Heron, and Bald Eagles, among others. Amazing natural bluffs dating back eons of time, and the spectacular majesty of Ozark vistas, not seen by the vast majority of the millions of visitors who come to Branson each year, will also be seen, along with a view of Branson Landing and its water and fire fountain show that's as unique as it is beautiful and inspiring.
Show: Reza Edge of Illusion will bewitch your sense of reality with unbelievable magic. You'll see some of "the old-style tricks; the disappearing birds, or the beautiful assistant being sawed in half, but don't expect the just the predictable . "Reza's fresh, cutting edge, and out to change the world's perception of the centuries-old art of magic." The whole family will be entertained and amazed by this show!
EVENING
Attraction: See the night time lights and splendor of the Branson Strip and surrounding Ozarks from lofty heights of The Branson Ferris Wheel. Chicago's iconic "Navy Pier Ferris Wheel" now resides at its new home, at Track 4 of The Track Family Fun Parks along with the four story 1,200 foot long "Heavy Metal" Go Kart Track and many other rides and amusements. The Branson Ferris Wheel has 40 gondolas, holds 240 riders, is 150 feet tall, and illuminates the night time Ozark's sky with "Electify," a 16,000 LED music and light spectacular.
Shows:
In its 4th smash-hit season, the MILLION DOLLAR QUARTET has been one of Branson's hottest shows for over three seasons. It's an incredible musical and entertainment experience based on the Tony Award-winning Broadway musical and the amazing true story of a unique one time recording session that took place in the storefront studio of Sun Records on December 4, 1956. Sam Phillips, the owner of Sun Records and the "Father of Rock 'n' Roll," brought together icons Elvis Presley, Johnny Cash, Jerry Lee Lewis, and Carl Perkins in what turned out to be an impromptu night of unforgettable music. Add great sets, a talented energetic cast, a touch of drama and romance, music that everyone knows and loves, and the result is an unforgettable night of entertainment for the whole family.
Amazing Acrobats of Shanghai features acrobatic feats so phenomenal; you won't believe your eyes! This cast is a troupe of China's finest and most elegant athletes performing acrobatic feats requiring an amazing array of skills. The stunning costumes, the beautiful backdrops, and an entire theater, custom-designed for the acrobats, from the stage, to the sound to the lighting, provides the perfect showcase for their talents.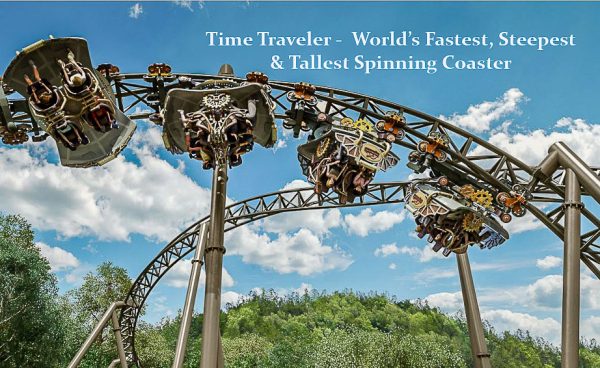 In our discussion of an ideal family day in Branson we did not mention Branson's oldest and most popular attraction, the 1880s themed amusement park, Silver Dollar City. With its combination of more than 40 rides and attractions, its new coaster "Time Traveler," the world's tallest, steepest and fastest complete-circuit spinning roller coaster; 100 resident craftsmen; Marvel Cave; shows; and festival related activities; this award winning amusement park is in and of itself the place for an ideal family day in Branson and should not be missed!
With all the shows, attractions, free things Branson has to offer there is almost an infinite number of ways to plan an ideal day for your family in Branson. Please feel to contact one of the Branson Tourism Center's Branson-based Vacation Specialists, who will be delighted to help you plan the ideal Branson vacation, by calling 1-800-785-1550 or through their website www.BransonTourismCenter.com.
We hope you enjoyed our article! If so, just sign up below for our Free Monthly Branson News and Information Newsletter: