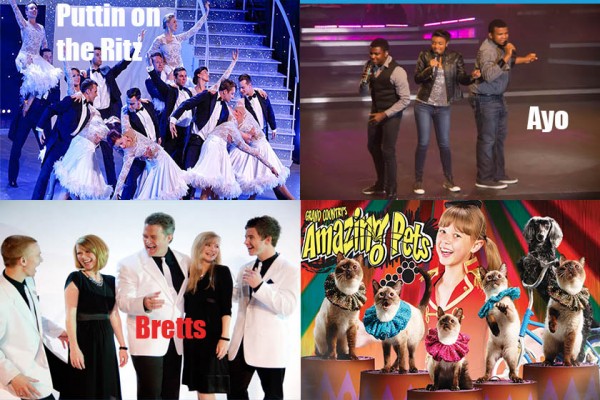 With over 53 theatres, more than 100 live shows and almost 60,000 theatre seats, it's easy to understand why Branson's famous for the quantity and quality of its live entertainment. Even after living in Branson for more than 29 years, the wide variety of live shows available to entertain visitors, from morning to night, is a constant source of amazement to me.
There are a number of reasons to start your Branson day by going to a show, but what could be better than starting your day on the uplifting note of being energized, entertained, and inspired by a great morning show? From shows like Amazing Pets, that children will absolutely love; to the country music and humor of Down Home Country, the exquisite voices of Dublin's Irish Tenors and The Celtic Ladies performing everything from pop to Irish classics, and a wide variety of other options, there is a Branson morning show that will start your day off in a special way!
Some of Branson Tourism Center's Most Popular and Highly Recommended Shows routinely schedule morning, as well as evening shows. These include, among others, Clay Cooper's Country Express and the shows appearing at Kings Castle Theatre. Still others, such as Shoji Tabuchi, have occasional morning shows.
The links in this article will take you to Branson Tourism Center's (BTC) Show Schedule containing detailed information on the show's content, schedule, pricing, and, in most cases, videos and pictures. This schedule is reviewed and revised on a daily basis by BTC, the company that's sold over 4.5 million Branson show and attraction tickets, and is one of Branson's largest and most respected vacation planning services. Here's a list of major morning shows, sorted alphabetically, with BTC's Most Popular and Highly Recommended shows listed first:
Amazing Pets
Clay Cooper's Country Express
Down Home Country
Dublin's Irish Tenors and The Celtic Ladies
New Jersey Nights
Puttin' on the Ritz
Shoji Tabuchi
All American Gospel
Always Patsy Cline
AYO starring Voices of Glory
Best of Neil Sedaka, the Carpenters, and Captain & Tennille
The BIG Show
Bretts
Buck Trent
California Dreamin'
Doug Gabriel's #1 Hits Tribute
George Dyer
George Jones and Friends Remembered
Good Ol Boys
IMAX Adventure Films
A Neil Diamond Tribute
Red, Hot…& Blue!
A Tribute to John Denver
The Twice Adopted Gospel Show
Wade Landry's Gumbo Show
For additional information on any of the shows discussed in this article or any of Branson's other shows and attractions, or for lodging arrangements, please feel free to contact the Branson Tourism Center, one of Branson's largest and most respected vacation planning services by calling 1-800-785-1550 or visiting www.BransonTourismCenter.com .
We hope you enjoyed our article! If so, just sign up below for our Free Monthly Branson News and Information Newsletter: