Most Popular Shows (and Highly Recommended)
We are frequently asked... What are the Most Popular & Most Requested Shows?
1-800-785-1550
WEB CODE
BTC
Open 7 Days a Week:
8:00 AM - 9:30 PM (CST)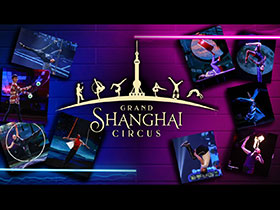 Amazing Acrobats of Shanghai
"Amazing Acrobats of Shanghai" - when it comes to Branson excitement, this show sets the standard! You'll see acrobatic feats so phenomenal; you won't believe your eyes! The striking colors, the exotic glamour, and the unbelievable skill of each spellbinding feat make the "Amazing Acrobats of Shanghai" an ideal, family-friendly show!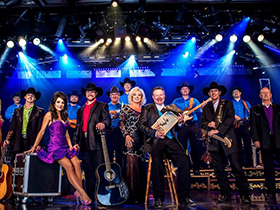 Branson's Famous Baldknobbers
"Branson's Famous Baldknobbers" - it's been more than fifty years, and Branson's first music show is still bringing great music and big laughs to audiences of all ages! Country hits of yesterday and today, and hilarious comedy hijinks are brought to you by the talented members of the Mabe family!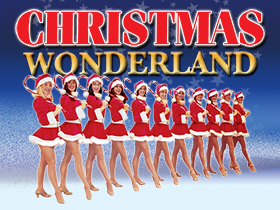 Branson's Christmas Wonderland
Branson's Christmas Wonderland – No yuletide trip to Branson would be complete without seeing Branson's Christmas Wonderland, one of Branson's largest holiday productions. A sparkling cast of singers and dancers takes you on an unforgettable an magical sleigh ride to a grand Christmas extravaganza. Don't miss this perennial favorite, which rings in the spirit of the Christmas season!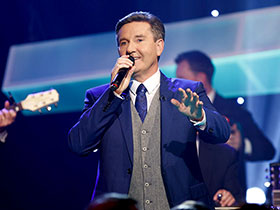 Daniel O'Donnell
Daniel will be bringing his "Christmas With Daniel" stage show to the Welk Resort Theater for 9 afternoon shows, all at 2:00 pm. His shows in Branson consistently sell out months ahead of opening. There is an even greater anticipation among American audiences who are eager to see this new, full Christmas stage production.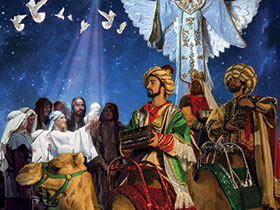 Dolly Parton's Stampede
Dolly Parton's Stampede is the perfect family destination in Branson for exciting entertainment and a fantastic, hope-you're-hungry, four-course feast! Featuring a rousing new overture highlighted by an amazing 150-foot LED video wall, 32 magnificent horses and a cast of top-notch riders, Dolly Parton's Stampede will thrill you with daring feats of trick riding and competition.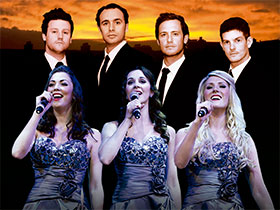 Dublin's Irish Tenors and The Celtic Ladies
Dublin Irish Tenors & Celtic Ladies – This is a one of a kind show, one that you will not find anywhere else in Branson! This show has become one of the most popular shows Branson has seen in years. With wonderful harmonies and lilting melodies, listen in amazement as these talented singers take you on a breathtaking musical journey covering Irish Classics, Opera, Pop and Jazz Standards. Come and see why this is one of Branson's most popular shows.
The Haygoods
New show for 2020! It's "The Haygoods" and it's an amazing Branson experience! Not your run-of-the-mill family show, these accomplished entertainers - who just happen to be siblings - dazzle audiences with innovative special effects; unsurpassed musicianship demonstrated on more than twenty instruments; sensational singing; and the most fun you've ever had during a live music show!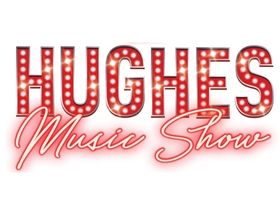 Hughes Music Show
"Hughes Music Show" fills the Branson stage...literally! More than 50 members of the Hughes clan employ a wide array of musical gifts, including magnificent dance moves, exceptional skill on a variety of instruments, and vocals highlighted by impeccable harmonies.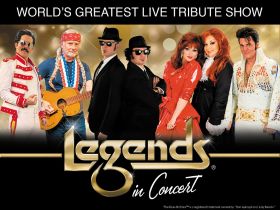 Legends in Concert
Branson's "Legends in Concert" is the world's greatest tribute show! With amazing artists delivering uncanny performances of the biggest names, the revolving lineup features Elvis, The Blues Brothers, and others like Johnny Cash, Michael Jackson, Adele, George Strait, Alan Jackson, The Temptations, and Frank Sinatra.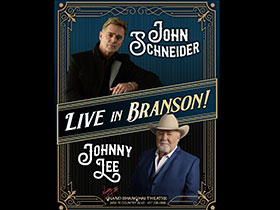 Mickey Gilley & Johnny Lee - The Urban Cowboy Reunion
When "The Urban Cowboy Reunion" comes to Branson, you won't want to miss it! Two country music legends, "Mickey Gilley" and "Johnny Lee," will give you a night to remember as they bring back some of their chart topping songs and share memories of the 1980 hit movie, Urban Cowboy.
NOAH the Musical
With a catastrophic storm on its way, one man is given a monumental task: build a boat big enough to save his family from a flood that will cover the entire earth. But they won't be alone. Returning for one season only, this landmark production takes you on board one of the world's best-known voyages, as live animals fill the stage and aisles. Set sail inside the enormous ark as this extraordinary Bible story comes to life all around you!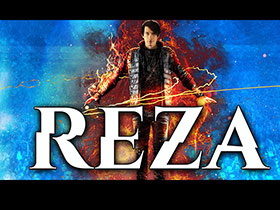 Reza Edge of Illusion
Reza is recognized as one of today's most highly sought-after entertainers in the illusion industry, delivering innovative, engaging and spectacular performances worldwide!