Concierge Program Overview
As a member of our Concierge Program, you're recognized as our most important customer.
Our special customers deserve special treatment. So, as our thank you for booking your vacation through Branson Tourism Center, you're automatically a member of our Concierge program.
1-800-785-1550
WEB CODE
BTC
Open 7 Days a Week:
Daily: 9:00 am - 8:00 pm (CST)

Special vacation-enhancing benefits just for members. As a Concierge member, you'll enjoy exclusive members-only savings and offers throughout the year plus special benefits – from money-saving offers to announcements and updates! All designed to help you enjoy your Branson vacation more than ever!
Concierge membership is all about taking it easy on vacation while we take care of the reservations, tickets and planning. When you book with Branson Tourism Center, you don't pay more...you just get more! There are no service fees or mark-ups - ever!
So relax. Have fun. Let us do the work while you enjoy the most carefree Branson vacation ever.
Call 1-800-785-1550 Web Code: BTC to book your next Branson vacation and take advantage of all your perks now.
Concierge Membership
You automatically receive these benefits just by being a customer of Branson Tourism Center!
---

Exclusive Concierge Member Discounts on vacation packages.

Free e-newsletter with monthly updates of events and performances. Click here to view our current newsletters.

Advance notice of special limited engagements.
---

Online vacation and show itinerary.

Free show alerts to notify you of changes and cancellations.
Concierge members always receive a 20¢ per gallon discount on gas (up to 20 gallons) with every vacation package purchase and the printed coupon.
Click the link found at the bottom of the confirmation letter.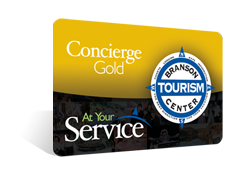 Gold Membership
When you spend at least $400 in one year,
you automatically qualify for Gold status - all Concierge benefits plus...
---
Your own special members-only toll-free reservation number.

Free Trip Protection credit to be used on any future order.
---

Exclusive check-in line at Branson Tourism Center.

Free lifetime Gold membership.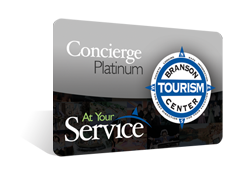 Platinum Membership
When your purchases total $1,500 over three consecutive years,
you automatically qualify for Platinum status - all Gold member benefits plus...

Personal dedicated concierge agent.

Free Trip Protection for life.

Free lifetime Platinum membership.
Have questions? Click here for answers to the most frequently asked questions.
Want more program details? Click here.