What Branson Landing Restaurants Are Available?
What Branson Landing Restaurants Are Available?
The selection of Branson Landing restaurants is as varied as the shops surrounding. As you stroll the Landing you can select from some of Branson's favorite restaurants. Nowhere else in Branson will you find so many restaurants in such close proximity.
Big Whiskey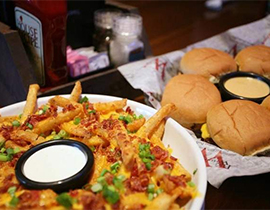 Big Whiskey's American Restaurant & Bar is an ideal place for a yummy meal during your Branson Landing shopping adventure! They've got incredible burgers, steaks, soups, wraps, and other classic American cuisine, and more than live up to their name with a menu of all your favorite spirits. With covered patio dining, it's a great place to people watch while you eat, and perfect for hanging out with the gang after work, especially during their Happy Hour.
---
Black Oak Grill
Black Oak Grill is an ideal Branson dining spot for enjoying a view of Lake Taneycomo and eating uniquely prepared food that uses many locally sourced ingredients. Delicious entrees include chicken, pork, trout, burgers, sandwiches, salads and much more! You'll also find cold beer, creative cocktails, and a nice wine selection.
---
Buffalo Wild Wings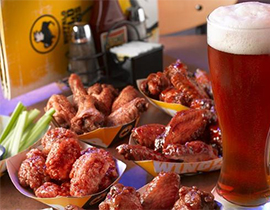 Cooking up everyone's favorite finger food with a variety of flavorful sauces and seasonings. You don't have to wait for New Year's football games or other high profile sporting events to enjoy tasty wings; serving up the delectable chicken treats all year long in a dining atmosphere that's perfect for gathering the whole gang together. And, of course, you can enjoy sports at any time; there's always a game on!
---
Cantina Laredo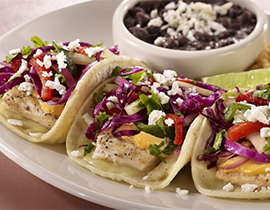 Cantina Laredo restaurant serves authentic Mexican dishes in a sophisticated atmosphere. Perfectly situated to enjoy the Branson Landing fountain show. They offer daily fish specials, grilled chicken and steaks complimented by signature sauces such as chipotle-wine with portobello mushrooms or sauteéd artichoke hearts and roasted red bell peppers.
---
Charley's Grilled Subs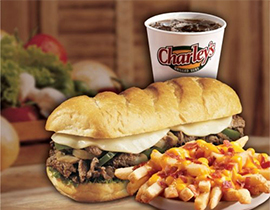 Serving up award-winning Philly steak club sandwiches on a real French bun! Pair your freshly grilled Philly steak or 100% white meat chicken breast sub with fresh lemonade and you have the perfect meal. Preparing fresh, delicious sub sandwiches for more than 25 years, you'll never find a microwave at Charley's; your Philly sub is grilled from 100% USDA choice steak when you order. And "Charley's Grilled Subs" uses only the freshest deli meats for their other sandwiches.
---
Ernie Biggs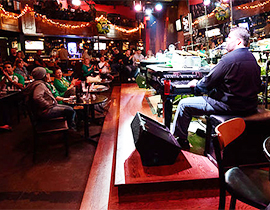 Ernie Biggs at the Branson Landing has great Southwestern/American style food, but it's really all about the fun! Enjoy this high-energy, Chicago-style dueling piano nightclub for the talented and funny piano players, to have loads of laughs, grab a few drinks, or something tasty to eat; or come for it all! Everything you're looking for when it comes to a fun night out is here.
---
Famous Dave's BBQ Restaurant
The Famous Dave's BBQ restaurant in Branson, Missouri serves up award-winning barbeque ribs and hickory-smoked meats in a casual, family-friendly atmosphere. For the "Best Barbeque" in Branson, you can dine in, takeout, or have us cater your next event! We'll help make your next catered BBQ event in the Branson area Famous!
---
Garfield's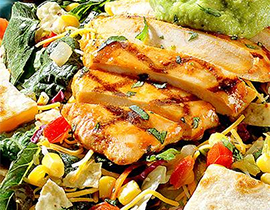 Garfield's Restaurant & Pub serves up a terrific meal in a beautiful location. Burgers, sandwiches, signature salads, pastas, seafood, and more abound in this delightful dining spot that comes complete with a fun pub atmosphere. You can't go wrong with lunch, where you can enjoy the select two option, or dinner, the food is always freshly prepared and predictably delicious! It's also a great spot to grab your friends and enjoy drinks together before you wander through the many shops.
---
Joe's Crab Shack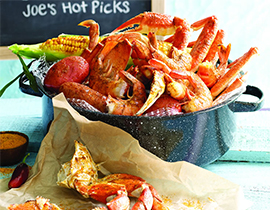 Your seafood connection in Branson! You can enjoy crab in a variety of ways at Joe's, including by the bucket, as a Big Platter meal, or in a steampot with other seafood favorites, just to name a few. Fish, lobster, and even land fare abound on the extensive menu. Located at Branson Landing facing the water of Lake Taneycomo in beautiful Branson, Missouri, "Joe's Crab Shack" is in the perfect spot for enjoying great seafood!
---
Level 2 Steakhouse
Fine dining restaurant conveniently located to the Branson Landing. 28 Day Aged Corn Fed Midwest Beef, Fresh Seafood flown in from Hawaii, Heritage Missouri Pork, Locally Grown Produce, Signature House Made Desserts, 1600° Infrared Oven – An extremely hot oven which quickly sears the outside and produces a more tender steak, due to the speed of cooking. 5 Distinctive Steak Knives, Complimentary Valet Parking.
---
The Paddlewheel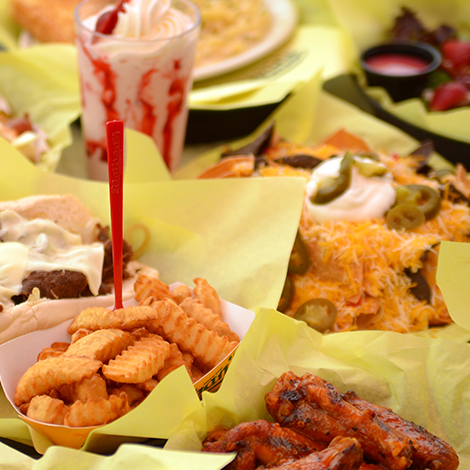 "The Paddlewheel" is conveniently located on the waterfront at Branson Landing. Go back in time with simple, fun, yesterday foods. The Paddlewheel features a full menu and bar! The Paddlewheel has a great atmosphere whether sitting inside or enjoying the beautiful weather on our spacious patio. They are kid-friendly and have plenty of room with a full second floor for seating. Don't miss a chance to visit this unique dining spot today right on Lake Taneycomo.
---
Smith Creek Moonshine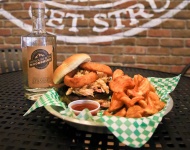 Smith Creek Moonshine brings the taste of the Ozarks hills to Branson Landing! Taste a variety of tantalizing shines at the bar, or give a few mixed moonshine concoctions a try. This fascinating 5,000-square-foot virtual distillery features a restaurant serving pit-smoked barbecue meats, interesting displays like a 1941 Ford prohibition-era moonshine hauler, live music on select nights, and a retail area stocked with apparel, jams, sauces, dry rubs and, of course, a nice variety of bottled moonshines. There's a moonshine flavor for everyone...Apple Pie, Caramel, Berry, Cinnamon, Peach, Sweet Tea and, for those looking for a more authentic taste, Straight White Lightnin'! Sometimes, you gotta put a little shine in your life!
---
Subway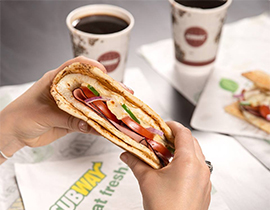 Sitting near multiple stores like Bass Pro Shops and Kirkland's, and fun attractions like Main Street Lake Cruises and Parakeet Pete's zipline, "Subway" is a great choice to eat on the go! They have all your favorite sandwiches, tasty Flatizza pizza, and all the popular specialty subs like the Subway Club with Avocado.
---
Texas Land & Cattle Steak Restaurant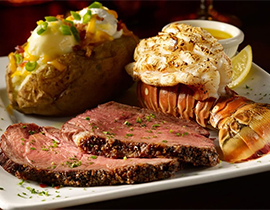 You can enjoy a big, juicy, delicious steak dinner after a day of shopping at beautiful Branson Landing! Pick your own cut of steak from the Texas Grill Menu and have it done your way. Fans of good Texas-style food know that different parts of the Big Horn State are known for their own brand of cuisine. "Texas Land & Cattle" recognizes these differences and has a great menu where you can select entrees from Border Texas, Coastal Texas, or Plains of Texas. Try a House Favorite Steak Burger with Cheese. There's even a nice selection of hearty soups and salads.
---
Waxy O'Shea's Irish Pub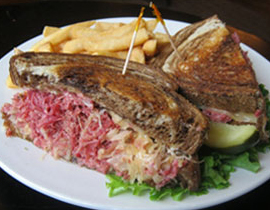 come for the food, stay for the fun! Located in beautiful Branson Landing and facing the historic Branson Scenic Railway and historic downtown Branson, Missouri, it's an ideal location to hang with friends, or make new ones! Outdoor seating makes it easy to enjoy the small city-like atmosphere and watch the train leave the station. It's a pub, so of course there's going to be excellent drinking to be had, but there's also a great menu with traditional pub fare like burgers and fish & chips, and appropriately named items like the Donegal Club Sandwich and the Irish BLT. There's also live music on select evenings, and a new Guinness Room for private parties.
---
White River Fish House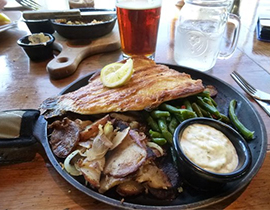 The restaurant, floating on Lake Taneycomo, provides scenic views of the lake and bluffs surrounding the Branson Landing area. The decor of the restaurant draws from the rich history of Lake Taneycomo and the White River, paying respect to the history of the area and giving praise to one of the best fisheries of trout in this part of the United States. The menu features signature seafood dishes, smoked BBQ ribs, steaks, pasta dishes, and a variety of sandwiches and salads. For the little ones we offer a children's menu. To complete your dining experience, don't forget to try the succulent Key Lime Pie, Cast Iron Chocolate Chip Cookie, Caramel Macadamia Nut Cheesecake, or a Brownie Sundae.
For More Information Please Call:
1-800-785-1550 Web Code: BTC