"Although it's early, we are getting questions about what shows will be open on Thanksgiving Day and over that weekend," said, Preston Garrison, the Director of Operations for the Branson Tourism Center. "We are pleased to provide a list of most of the Branson shows scheduled to be open on Thanksgiving Day and over that weekend. It is in alphabetical order with those on Our List of Most Popular Branson Shows listed first. Those that will be open on Thanksgiving Day are indicated with an * after their entry; the links will take you to the specific show page with additional information on the show, schedules, ticketing, special discounts, pricing options like VIP seating, videos and more:
Andy Williams Christmas Extravaganza*
Billy Dean in Concert with Jarrett
Dublin's Irish Tenors and The Celtic Ladies
Hughes Brothers Christmas Show*
Legends in Concert*Million Dollar Quartet*
SIX*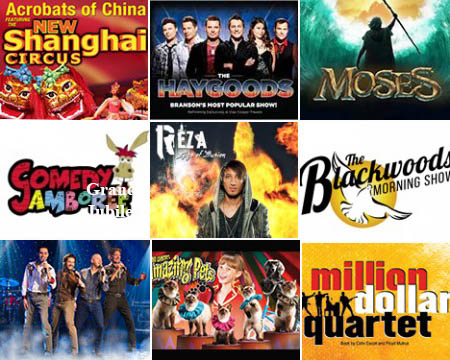 #1 Hits of the 60's & 50's too
70's Music Celebration Starring Barry Williams*
ABBA Tribute – Thank You for the Music
A Tribute To George Strait Dinner Show
Beach Boys California Dreamin'
Boot Daddy Presents Dailey & Vincent
Branson Murder Mystery Dinner Show
Christmas on the Trail Chuckwagon Dinner Show*
Classic Country's Patsy Cline & Friends
Crazy 'bout Patsy and Other Country Legends*
George Jones and Friends Remembered
George Strait Country starring James Garrett*
Golden Sounds of The Platters with Eddie Stovall*
Hallmark Presents Maxine's Christmas Carol*
Hamners' Unbelievable Variety Show*
Kelli Grant "The Queen of Swing"
Legend of Kungfu – Return of the Dragon*
Lynyrd Skynyrd & Suthyrn Fryd Frynds Tribute
The Petersen Family Bluegrass Band
Waylon, Willie & The Good Ol' Boys
Branson Tourism Center's Garrison reminds that show schedules are subject to change. For the most current schedules, he suggests checking the link for any show you might be interested that is listed in this article, which will automatically be updated; the BTC Branson Show List, the most current list of Branson shows available anywhere; or calling the Branson Tourism Center, at 1-800-785-1550 and talking with one of its Branson based Travel Planners.
We hope you enjoyed our article! If so, just sign up below for our Free Monthly Branson News and Information Newsletter: