For More Information Call 1-800-785-1550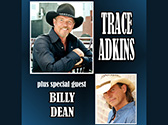 Trace Adkins
May 26th, 2013
Click Here to View Schedule & Pricing
About Trace Adkins: Trace Adkins is one of Country music's most accomplished entertainers. His trademark baritone has powered countless hits to the top of the charts and turned albums into Platinum plaques, selling over 10 million albums, cumulatively. The Grammy-nominated member of the Grand Ole Opry is also a television personality, actor and author. He is a spokesman for the Wounded Warrior Program, the American Red Cross and will soon complete his eighth USO Tour.

His 2007 autobiography, A Personal Stand: Observations and Opinions from a Freethinking Roughneck, the 6'6" oil-rigger-turned-Country star recounted his rise to fame, brushes with death, battles with personal demons and just how the world's biggest alpha-male handles fatherhood " he has five daughters. In 2008, Trace's integrity and wry humor served him well as he became a finalist on NBC's The Celebrity Apprentice. His return to Celebrity Apprentice All-Stars is now eagerly awaited.
For More Information Call 1-800-785-1550
Tim McGraw
June 23rd, 2013
Click Here to View Schedule & Pricing
"A lot of artists can tell you how they feel," says Tim McGraw, "but when somebody can tell you how you feel, and you didn't know it or couldn't put it into words, that's the goal. What you want to do as an artist is let someone discover how they feel from your music, in a really visceral way, from the inside out.

For twenty years, McGraw has been providing that kind of powerful connection with his audience. With Two Lanes of Freedom, his new albumand first release for Big Machine Recordsthe singer is covering his broadest emotional range yet, with a set of songs that looks forward and back, gets deep and gets loose, and reveals that even the biggest stars can continue to grow with consistency and maturity.
For More Information Call 1-800-785-1550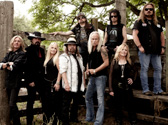 Lynyrd Skynyrd
July 5th, 2013
Click Here to View Schedule & Pricing
Beyond the tragedy, the history, the raging guitars and the killer songs, ultimately, Lynyrd Skynyrd is about an indomitable will. About survival of spirit; unbowed, uniquely American, stubbornly resolute.

With their first set of new studio material since 2003s Vicious Cycle, legendary rock band Lynyrd Skynyrd returns with God & Guns, due out September 29 on Loud & Proud/Roadrunner Records. Recorded in Nashville in 2008-2009, the project was interruptedbut, tellingly, not endedby the deaths of founding member/keyboardist Billy Powell and longtime bassist Ean Evans earlier this year.
For More Information Call 1-800-785-1550
Journey
August 16th, 2013
Click Here to View Schedule & Pricing

JOURNEY is one of the most popular American rock bands of all time, creating some of the best-known songs in modern music. They have continued to tour and record into the 21st century, and have never stopped creating vital music. Since the group's formation in 1973, the band has earned 19 Top 40 singles and 25 Gold and Platinum albums. The band's Greatest Hits album is certified 15 times Platinum, bringing Journey into the elite club of Diamond-certified album holders. Journey is re-energized for 2011 as they prepare to unleash their latest album of brand new material, Eclipse, featuring the line-up of Neal Schon (guitars, backing vocals), Jonathan Cain (keyboards, backing vocals), Ross Valory (bass, backing vocals), Deen Castronovo (drums, percussion, backing vocals) and Arnel Pineda (lead vocals).