The Branson area boasts many ways to enjoy the beautiful Ozarks, kayaking is one of the best for getting up-close-and-personal with our wonderful bodies of water! You'll find kayak operations that provide service to Table Rock, Taneycomo, and Bull Shoals lakes. The river-like Lake Taneycomo is especially conducive to an excellent kayaking experience, but don't dismiss Table Rock and Bull Shoals. Both of these lakes are enormous, so if you're looking to avoid the water sports enthusiasts zipping around in faster watercraft, it's fairly easy to find more private areas to enjoy simply gliding through the serene waters.
Click on images below for larger image.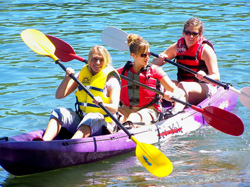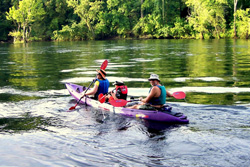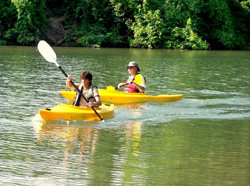 If kayaking sounds like a lot of fun, but you've never tried it before, there is a difference between a canoe and a kayak. A kayak paddle has blades at both ends and your body is positioned differently in a kayak than in a canoe, which has bench seats and paddles with one blade. Kayaking is a perfect for enjoying the scenery, and a great way to go fishing! Taneycomo is famous for its abundance of rainbow and brown trout and, although you'll find scores of other species in all three lakes, bass is king when fishing both Table Rock and Bull Shoals.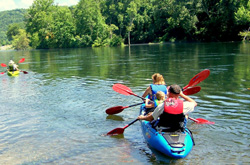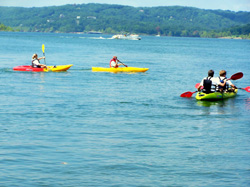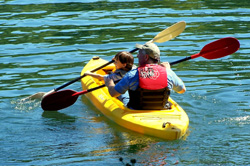 Renting a kayak? Branson Offers Plenty of Options!
Kayak rentals can be found that service one or all three of the Branson area lakes, and most of these operations also rent canoes and/or paddleboards.
Kayak Branson has single, double, and triple seat kayaks, as well as canoes and paddleboards. You can lease a kayak for two, three, or four hours. You can also get a kayak for the entire day or even longer. They'll drop you off and pick you up at designated areas on Table Rock Lake or Lake Taneycomo.
Ozarks Extreme Outdoors, located on Indian Point, offers kayaks for use on both Table Rock Lake and Lake Taneycomo. Shuttle service is included in your rental fee. They also offer kayak, canoe, and other watercraft for sale.
White River Kayaking and Outdoors has kayak rentals available for all three Branson area lakes; Taneycomo, Table Rock, and Bull Shoals. The offer standard, fishing, and tandem kayas, as well as canoe and bicycle rentals. They have a shuttle service to drop you off and pick you up at designated areas on each lake.
In addition to all the fun kayaking waiting to be had, there are many opportunities in the greater Ozarks' area for canoe float trips, including adventures down the wonderful Buffalo River in Arkansas. But you need not venture out of Branson to enjoythe water in a kayak or canoe, or even standing on a paddleboard; Branson is ready to help you experience the great Ozarks outdoors on your choice of three clean and stunningly beautiful lakes!
For More Information Please Call:
1-800-785-1550 Web Code: BTC