Main Street Lake Cruises is now conveniently located south of the White River Fish House & Bass Pro Shops, at Branson Landing in historic downtown Branson, Missouri. Main Street Lake Cruises offers a variety of lake cruises for groups or individuals, from romantic Dinner Cruises to Sunset Cruises, from historic Sightseeing Tours to Special Events and Holiday Cruises. Choose the Lake Queen, a modern day riverboat replica, or the Landing Princess, a 100' luxury yacht! Your cruise experience will also include the performances of the Branson Landing Fountains, a $7.5 million spectacular attraction that synchronizes water, light, sound and fire.
Read about how the exciting move increases access to Lake Tanycomo cruises aboard Main Street Lake Cruises!
For More Information Call
1-800-524-0222
Web Code: BTC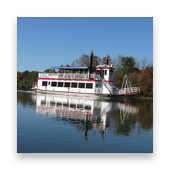 Sightseeing Cruise on the Lake Queen
Click Here to View Schedule & Pricing
The perfect way to enjoy time on the lake in Branson - the Sightseeing Cruise on the Lake Queen! It offers a great time, which is a really good thing because it's the only cruise operation on Lake Taneycomo! What makes it special? It gives you a more relaxing form of lunch-time entertainment; you can enjoy a scenic journey along the lake while you eat. Your well-informed, extensively trained, and certified boat captain guides you safely along the flowing waters of the river-like Taneycomo, while sharing stories about the lake, landmarks you'll encounter along the way, and the wildlife that make their home on this unique lake. Most people will go their entire lives without seeing where the majestic bald eagle lives; on this cruise, you'll come upon shoreline areas inhabited by the bald eagle, and visitors frequently get to see these incredible creatures perched in the trees or soaring above the water; these sights alone are worth the trip!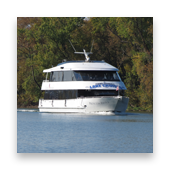 Dinner Cruise on the Landing Princess
Click Here to View Schedule & Pricing
Enjoy a delicious dinner and the ultimate in dining and service with an hour and a half cruise aboard the elegantly appointed 100 foot luxury yacht "Landing Princess" on beautiful Lake Taneycomo amid the spectacular majesty of the Ozarks. While dining, enjoy the beautiful scenery unfolding as you pass by. Speaking of scenery, the shores of the somewhat narrow, river-like lake boast some areas heavy with pretty trees, other areas resplendent with the colorful bluffs of the Ozarks hills, and plenty of birds, fish, fox, squirrels, and other critters in their natural habitat. Of all these incredible creatures, everyone's favorite sighting is, of course, the majestic bald eagles that nest along the shoreline of Lake Taneycomo. Most Americans live their entire lives only seeing this symbol of our nation in pictures; seeing one soar over the lake is a fairly common occurrence here in Branson.