Branson Missouri
>
Branson Museums
Branson Museums
For More Information Please Call : 1-800-785-1550
In addition to the great shows, entertainment and lodging that Branson has to offer, Branson offers some of the most fun and educational museums in the country!
Hollywood Wax Museum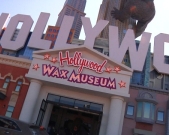 Grab your camera and join A-listers for pictures that will make the best postcards from Branson! From Lucille Ball to Lucy Lui, John Wayne to Johnny Depp and Elvis to Will Smith, you'll rub elbows with the stars caught in the act of performing the most famous scenes in entertainment history. Skip down the Yellow Brick Road, sail aboard the Titanic, encounter Frankenstein and Freddy, and lots more. Plus your photo with the gargantuan 40-foot King Kong. Fun for all ages. Open until midnight 365 days a year. Located on W. 76 Country Blvd. between Clay Cooper and Presley's. Get great combo tickets for the Wax Museum, Hannah's Mirror Maze, Castle of Chaos, and Shoot for the Stars Mini Golf, all in the same complex!
Click here for Hollywood Wax Museum information, schedule & prices
Ralph Foster Museum
The primary focus of the Ralph Foster Museum today is to collect, preserve, interpret and exhibit items relating to the Ozarks region. One of the more famous exhibits is the original vehicle used in the television series "The Beverly Hillbillies". In addition, visitors will find antiques, weapons, dolls, natural history and other items from around the world.
Ripley's Believe it or Not! Museum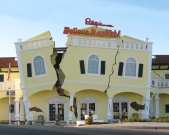 The Most Photographed Building In Branson! Do you know why our building looks the way it does? In 1812 an earthquake measuring more than 8.0 on the Richter Scale occurred at New Madrid, Missouri. This earthquake made the Mississippi River run backwards for three days and made Church bells ring In Philadelphia! Our building reflects that odd event, and Ripley's...Believe It or Not!® in Branson has become one of the most photographed buildings In the world!
Click here for Ripley's Believe it or Not! information, schedule & prices
Titanic Museum Attraction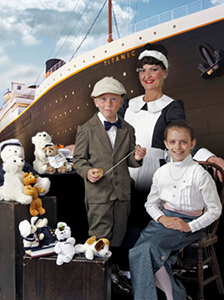 New Gallery in 2013! Discover the 133 Children Stories of Titanic. A year long tribute with galleries and events honoring Titanic's littlest heroes and an educational experience your children will never forget. 90 minute self-guided tour. Winner of the 2012 TripAdvisor Certificate of Excellence. "The most lavish monument to the sea's most famous disaster." - USA Today
Click here for Titanic Museum information, schedule & prices
Veterans Memorial Museum
The Veterans Memorial Museum in Branson, Missouri is a national tribute to the brave men and women who defended our liberties during the 20th Century. A visit to the museum is a powerful, emotional experience. As you wander the great halls of the museum you'll be captivated by the stories of these men and women who gave us so much. The museum is filled with the most incredible collection of wartime exhibits covering the heights and depths of human experience.
Click here for Veterans Memorial Museum information, schedule & prices
---
---
All packages, lodging, show prices and schedules are subject to change. Please call to confirm specific prices, dates and times.
We will attempt to meet all "Special Requests," however they are NOT guaranteed and subject to availability. We will also work to assist customers in requesting accommodations due to disabilities.
---
For More Information or to Order Tickets, Lodging or Packages
Please Call Toll-Free 1-800-785-1550 or 417-243-2840
We are open 7 days a week.
From 8:00 am - 9:30 pm (CST)
---
---
---
---
---
Branson Tourism Center, 220 Branson Hills Parkway, Branson, MO 65616
Copyright © 2010 Branson Tourism Center. All Rights Reserved.