2013 Platinum Events
Enjoy the Privileges of Being Platinum!
VIP seating, special events and premier reservations are what make our Platinum events so special. Every year, we look for those unique opportunities that will add that special memorable touch to our Platinum members' Branson experience. As new events are created, we will feature them here so Platinum members can plan their next vacation knowing which Platinum events are available to add to their itinerary. You won't want to miss out on these specially reserved events! It's just one of the many benefits of Platinum membership.
New 2013 events are in the works!
We are currently working on even more Platinum Member events for the remainder of 2013. Please check back again soon.
Check out our Previous Platinum Member VIP Events
American Idol® Finalists In The Finalists Live! Platinum Event
Tuesday, July 17th 2012
Concierge Platinum Members enjoyed a showing of "American Idol® Finalists In The Finalists Live!" in Branson. Following the show, Concierge Platinum Members had an amazing meal aboard the Main Street Lake Cruises Landing Princess luxury yacht where they were able to meet the cast of the show! View the video below to see what a great time everyone had!
---
Titanic Platinum Event
Friday, June 8th 2012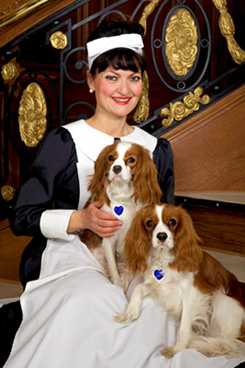 Several Platinum Concierge members joined the Cast and Crew of the Titanic Museum in Branson, MO for a private behind the scenes Titanic Tour with an exclusive VIP meet and greet with Molly & Carter, the King Charles Spaniel mascots of the Titanic Museum.
---
Shoji Tabuchi Platinum Member Event
Saturday, September 17th 2011
Eighteen very excited Platinum Concierge members participated in a truly unforgettable show and a once in a lifetime VIP experience to meet Shoji Tabuchi and his family in person. These loyal fans had an opportunity join Shoji Tabuchi and his delightful daughter Christina for an intimate reception where they were able to get autographs, pictures and a free CD as a thank you for being loyal customers. Check out the video to see more.
---
Yakov's Circus School
Saturday, July 30th 2011
A lucky group of Platinum Concierge members and their families had a chance to experience what it would be like to become a circus performer? In this fun-filled event kids of all ages learned what it takes to be a clown or juggler and took advantage of this amazing opportunity to personally meet Yakov's daring artists, acrobats, jugglers, the human Slinky, and other jaw-dropping performers. Our guests discovered some of the ins and outs of being a circus performer. In addition, the kids received an official Yakov's Circus School graduation certificate. Check out the video below to experience the fun.
Have questions? Click here for answers to the most frequently asked questions.
Want more program details? Click here.
---
---
All packages, lodging, show prices and schedules are subject to change. Please call to confirm specific prices, dates and times.
We will attempt to meet all "Special Requests," however they are NOT guaranteed and subject to availability. We will also work to assist customers in requesting accommodations due to disabilities.
---
For More Information or to Order Tickets, Lodging or Packages Call
1-800-785-1550
We are open 7 days a week.
From 8:00 am - 9:30 pm (CST)
---
---
---
---
---
Branson Tourism Center, 220 Branson Hills Parkway, Branson, MO 65616
Copyright © 2010 Branson Tourism Center. All Rights Reserved. (**)
The current date & time: 05/18/2013 18:16:21