Branson Hiking
Branson Hiking
For More Information Please Call:
1-800-785-1550 Web Code: BTC
Many people are coming to Branson Missouri not only because it is the Live Music Show Capital of the World, but because Branson has beautiful surrounding lakes and breath taking Ozark hills. There are several hiking trails in the Branson area for you to enjoy.
Bull Shoals Hiking Trails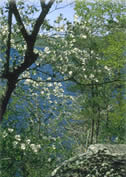 The Dogwood Trail, located in Lakeview Park, is the only hiking trail on Corps of Engineers land around Bull Shoals Lake. The trail is 3 miles round trip and rated as moderately difficult. The trailhead is located near the campground dump station.
Bull Shoals State Park also offers two trails. The Big Bluff Trail offers scenic views of the White River below Bull Shoals Dam. It is 1.5 miles long and rated as easy. The trailhead is located off of Powerhouse Road near Bull Shoals Dam. The Lakeside Trail winds along the shore of Bull Shoals Lake. It is 1 mile long and rated as easy. The trailhead is located in the State Park Picnic Area located off of Highway 178 between the dam and Lakeview, AR.
Dogwood Canyon Nature Park
The round-trip paved trail covers 6 miles and is relatively level. It guides you past beautiful limestone bluffs and tumbling waterfalls, over bridges formed of native stone or hand-crafted of wrought iron, and even a covered bridge of Amish construction. The beautiful rainbow trout swim in clear spring-fed waters, easily visible as you pass by. It is a wilderness park and you may expect to see a variety of native wildlife, your best chance being earlier in the morning. Allow plenty of time to absorb the beauty that surrounds you at any season of the year.
Table Rock Lakeshore Trail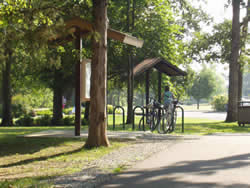 This beautiful trail is 2.2 miles long and runs from the Dewey Short Visitor Center to thePhoto. Trail head. Click on photo to view a larger image. Table Rock State Park Marina. Persons using the trail in the spring will view dogwood, serviceberry and redbud trees in bloom as well as many wildflower species. During the fall season, visitors are treated to nature's colorful fall foliage. The trail also offers beautiful views of Table Rock Lake. The trail will take you by the Showboat Branson Belle where you can enjoy a wonderful Dinner Cruise, and it also takes you through Table Rock State Park which offers many additional recreation opportunities.