Branson Shopping
Shopping - One of Branson's Biggest Attractions!

One of the country's most popular outlet centers is here in Branson, as well as other great discount shopping. Unique boutiques more your style? You'll find them everywhere in Branson! Like shopping to be an experience; including dining and entertainment? Branson Landing is custom-made for you! Crave a downtown shopping adventure? You can't miss Historic Downtown Branson! Throughout Branson you'll discover exceptional, locally-owned stores, a variety of flea markets, scores of thrift shops, and several multi-booth craft centers. Can't get enough of your favorite big-box retailer? Well, they're all here in Branson, too....Target, Best Buy, Home Depot, Walmart, Kohl's; Bed, Bath & Beyond...and beyond, and beyond, and so forth and so on!
Branson Hills - Your Shopping Destination for the Familiar!
As you enter Branson Hills, you'll see Branson Tourism Center (BTC) on your right, your resource for everything Branson! There's also a handy convenience store and service station at the BTC location.
Discover several department and big-box stores, including Target, Kohl's, Home Depot, Books-A-Million, Best Buy, PetSmart, and a Walmart Supercenter.
Other popular stores include Pier 1 Imports, Game Stop, AT&T, Ulta, TJ Maxx, Michaels, Dollar Tree, and Cato.
Shopping and Fun are One...at Branson's IMAX© Entertainment Complex!

In addition to the giant IMAX© movie screen, the Little Opry Theatre, and a multi-screen movie theater, you can explore several specialty shops in this incredible complex.
Gift shops with souvenirs and collectables, as well as quilts, clothing, jewelry, and clocks, let you shop while you feed and entertain the family all in one place!
Shops in the IMAX© complex include D&D Leather, Ozark Mountain Quilts, The Shadow Box, and Legacy & Legends Gifts.
Branson Landing - The Area's Premiere Retail Destination!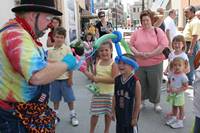 Fabulous waterfront shopping, dining, and entertainment await you at beautiful Branson Landing!
The Landing is anchored by Belk, a popular department store, and the sportsman's dream store, Bass Pro Shops.
You'll discover dozens of stores, both locally-owned, unique shops, and favorite brand names, including Chico's, The Children's Place, Pendleton, Tervis, Brighton, Bath & Body Works, Yankee Candle, and Brookstone.
View stores at Branson Landing
Branson Gets Crafty at the Mill!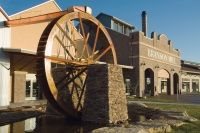 Branson Mill is a one-of-a-kind craft mall with a dedicated and talented group of artisans and master crafters who both demonstrate and sell their works.
This working craft village showcases leather carving, wood carving, pottery, pen and ink drawings, custom embroidery, mosaic art, and other exceptional arts and crafts.
Scroll saw and pottery classes are offered for beginners and advanced artists alike.
Everything's Grand in Branson at the Grand Village Shops!
Meandering cobblestone walkways, twenty-six specialty shops, two unique dining spots, and charming seating areas and landscaping create Branson's quaint and English village-like shopping experience.
Discover art, jewelry, crafts, Missouri's largest Christmas store (open in every season), and an old-fashioned, genuine independent bookstore, T.J. Charleston's, Branson's only full-service bookstore.
Other shops include the locally-owned, upscale jeweler, Tatman's Fine Jewelry Boutique, as well as Thomas Kinkade Signature Art Gallery, Peter Engler Designs, Mulberry Mill, and Lori's Soap Market.
Branson's Authentic and Historic Downtown - A Shopping Treasure!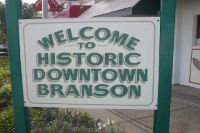 Branson has an authentic downtown where you'll find fine art, flea markets, antiques, clothing, shoes, jewelry, cafes, and music shows. Unique shops include If The Shoe Fits, Plum Bazaar, and Patricia's Victorian House.
At Dick's Oldtime 5 & 10, you'll be launched back to the local variety store of your childhood. Complete with vintage tiled floors, everyday household goods, and fun Branson souvenirs, it's an attraction all by itself!
Don't miss downtown's free trolley service...the kids will love Sparky the trolley car; a great way to get to and from downtown and Branson Landing.
Branson's Beautiful Shopping District - The Shoppes at Branson Meadows!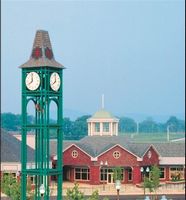 A lovely setting with pretty features like a clock tower, The Shoppes at Branson Meadows features select stores, a multi-screen movie theater, and the Upper Deck Grille, the perfect spot for a terrific meal!
Shops in the complex include Bon Worth, Tool Town USA, Hush Puppies, World Kitchen Corning, Touch of Class Formal Wear, V.F. Factory Outlet, Tuesday Morning, and Ozark Quilts.
The Shoppes offer some of Branson's most convenient and abundant parking, a perk that always makes shopping more enjoyable!
View Shoppes at Branson Meadows
Designer Deals by the Dozens at Branson's Tanger Outlets!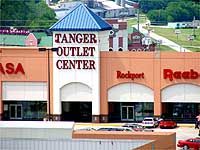 Tanger Outlets is one of the country's favorite outlet shopping centers, and Branson is home to one of their best centers, boasting everyone's favorite brands.
Shoppers will find Express, Ann Taylor, Banana Republic, Gap, Tommy Hilfiger, Carter's, Lane Bryant, Reebok, Coach, Levi's, Polo Ralph Lauren, Under Armour, Pandora, the Disney Store, and more.
Seasonal and holiday sales and events are hugely popular at Tanger, and the center accommodates shoppers with features like extended hours for Black Friday bargain hunting!
Fashion, Fun, and Fabulous Finds...Waiting for You on Branson's Famous Strip!
Cruising along the strip can be its own special attraction, and lots of shopping options are waiting to be discovered during your cruise!
There's still a smaller, non-Super Center Walmart located on Highway 76, a.k.a. The Strip, as well as an excellent grocery store with a full service floral department, salad bar, and ready-to-eat hot foods.
You'll encounter handy gift and souvenir shops on 76, and wonderful gift shops in many of Branson's theaters and attractions along the Strip. Find candy, jewelry, home décor, and the like at Grand Country Square.
---
Don't forget about the wonderful shopping in places like Silver Dollar City, where you can find handcrafted items, logoed gifts, and more; and the wonderful gift shops at theaters, attractions, restaurants, and even some of Branson's hotels. Shopping can be incredibly entertaining, and Branson is home to every type of shopping you can imagine; furnish and decorate an entire house, or simply fill up your suitcase with souvenirs for those unlucky folks back home that couldn't come to Branson with you!
Don't just shop 'til you drop...in Branson, you can shop non-stop!
For More Information Please Call:
1-800-785-1550 Web Code: BTC