Branson Missouri
>
Most Popular Shows
Most Popular Shows
Highly Recommended
We are asked all of the time......
What are the Most Popular & Most Requested Shows???
For more information Please Call : 1-800-785-1550

3 Redneck Tenors
The musical comedy featuring classically trained veteran artists from Broadway and world opera stages is like Greater Tuna meets Das Barbecu down home laughs with big city music! Written by opera-veteran Matthew Lord with music arranged by Craig Bohmler, 3 Redneck Tenors features a cast of veteran opera and Broadway stars including Blake Davidon, Alex Bumpas, Matthew Lord and Dinny McGuire.
Acrobats Of China
Over 40 Acrobats of China bring the Orient to Branson in a fast-paced, exciting production featuring internationally award-winning acts. The New Shanghai Circus presents a revolving line-up of favorite acts such as Big-Big Drums, Diabolo (Chinese Yo-Yo), Bicycle Tricks, Pole Climbing, Russian Bar, Aerial Fish Ballet, Adagio, Plates Spinning, Magic Clock, Roller Skating, Handstand Art, Human Top, Chair Stack and more.
Clay Cooper Country Music Express
Don't miss New York's number one cowboy, trick roper, and gun-slinger, Johnny Lonestar; eight amazing dancers lead by Clay's multi-talented wife, Tina Cooper, a six-piece band, Branson's funnier than funny comedian, Matt Gumm, 6 year old rising star Colt Cooper, and Clay's newest addition to his cast, Buckets 'n' Boards, a dynamic rhythm duo that will make you laugh till you cry!
Christmas in Hollywood
An American Holiday Tradition
Come and join Santa, his Hollywood Elves, and the best singers and dancers in town for Branson's number one all-singing, all-dancing Hollywood Christmas Show.
So come along as we take you on a magical sleigh ride to our winter wonderland of holiday fun and festive cheer with all of your favorite classic holiday songs, dazzling scenery, gorgeous costumes and the highest kicking chorus girls this side of the North Pole.
Gatlin Brothers
Larry Gatlin and The Gatlin Brothers have forged a new musical standard for vocal harmony, raw talent and showmanship while topping the music charts with hit-after-hit. One of the first-class acts in Country Music, the Gatlin's have 15 Top-Five hits including their #1 hits All The Gold In California, Houston (Means I'm One Day Closer To You) and I Just Wish You Were Someone I Loved plus Broken Lady, Night Time Magic, I Don't Wanna Cry and more.
Grand Jubilee
Along with power vocals from Jackie Brown and Todd Bradshaw, this show is a bomb with the fuse lit! Having won "Branson's Best Variety Show", "Quartet of the Year", "Band of the Year", "Comedian of the Year", "Emcee of the Year", "Fiddle Player of the Year", "Bass Guitar Player of the Year", "Banjo Player of the Year" and "Steel Guitar Player of the Year", it's not hard to see why Grand Jubilee is the one show that will stay with you long after your vacation is over. It's Branson's most entertaining show-ask anybody!
Hamner Barber Variety Show
An incredible evening of fun featuring amazing magical illusions, hilarious comedy, dance and more. Stars of NBC's "World's Greatest Magic," The Hamners present their award winning illusions. Jim Barber is considered one of the world's great ventriloquists and was recently featured on CBS's "Late Show with David Letterman."
The Hamners produce several enormous exotic birds. Their beautiful Macaws and Cockatoos appear amid flying cards, flaming swords, falling coins and jewels and then perform an incredible flight over and around the audience before gracefully returning to the stage. In 2006 the Hamners received their second prestiguous Merlin Award from the "International Magicians Society" as International "Entertainers of the Year."
Jim Barber's incredible vocal abilities as a singer and ventriloquist leave everyone talking. Jim was recently awarded the International "Ventriloquist of the Year" Merlin Award for his unique combination of magic techniques and ventriloquism. His one-of-a-kind characters and original, wholesome comedy have made him an audience favorite.
Add a talented troupe of singing dancers and you've got an enjoyable show for the entire family.
During November and December the show takes on a holiday theme as "The Wings of Christmas" takes flight. A Spectacular production featuring the best of their regular show plus original new music and breathtaking illusions that appeal to all ages.
Haygoods
Why spend an evening at The Haygood Family Show? This talented group of 7 brothers and 1 sister is the REAL DEAL! The Haygoods bring the house down night after night with incredibly tight harmonies, innovative, energetic choreography, and amazing performances on over 20 different instruments! With over 5,000,000 people in the last 19 years taking part in the Haygood experience, you'd better believe that there's more to this group than buzz-they've got the goods, pure and simple!
Hooray For Hollywood
One of Branson's newest exciting shows for 2011!
Join us as we take you on a nostalgic journey through the most popular movie musicals of the last 50 years. You will see film clips of your favorite movies, and then watch the action unfold, live on stage, as our wonderful cast of singers and dancers perform the greatest song and dance from the greatest movies, live in concert.
Featuring highlights from famous movies, from Singing in the Rain, to Disneys "The Lion King", this all new, all singing, all dancing production will thrill and excite you as your favorite movie moments come alive before your eyes.
Hooray for Hollywood. Now That's Entertainment!
it at the Hughes Brothers Theatre
SEE it - where over 50 amazing singers, dancers, and musicians combine their astonishing scope of talents to create Branson's Ultimate Entertainment Experience. HEAR it - everything from Broadway to country to comedy to patriotic to gospel to rock-n-roll. FEEL it - the energy & emotion of over-thetop production numbers with brilliant lighting & sound. "it" delivers everything you want in a Branson show...and more. You will absolutely LOVE it!
it at the Hughes Brothers Theatre information and schedule »
Jim Stafford
Jim's first love has always been to perform in front of a live audience. The singer, songwriter, comic-genius, and entertainer extraordinaire is self-taught on guitar, fiddle, piano, banjo, organ, harmonica, and the human brain - and he might bring any of them into play at any moment.

Flying saucers hover, guitars drop, cows stampede, and Chihuahuas are saved, all in one experience at the Jim Stafford Show.

Legends in Concert
Legends In Concert is located along the famous 76 Strip and has been a part of the Branson entertainment scene for 12 years. Two power packed hours of fabulous entertainment awaits you. This world famous live tribute show features an amazing cast of all star impersonators assembled on one stage in one of the most sought after productions in the world.
See such stars as Garth Brooks, Liza Minnelli, Tina Turner, Alan Jackson, Reba McEntire, Buddy Holly, Marilyn Monroe, George Strait, the Blues Brothers, Elvis and many more of your favorite stars.
Legends of Kung Fu
A venerable temple master tells a fearful young apprentice the story of a legendary Kung Fu hero to give him insight into the life of a monk.
The story begins when the young Chun Yi is brought by his mother to the temple to start his apprenticeship to become a monk. At first he finds it difficult to adapt to the strict discipline. Under the tutelage of the wise Master, the boy realises if he resists temptation and distraction he will attain focus and competence. At his initiation he is given his name "Chun Yi" - the Pure One.
Liverpool Legends
Liverpool Legends received the coveted Best Show and Best Band awards in Branson for the past two years but they also stand alone as the only Beatles Tribute to have a direct, biological connection to the original Fab Four. This is thanks to, Louise Harrison, sister of the late George Harrison of The Beatles. Louise is truly one of a kind as she is the only Beatles sister. Louise will share fond memories of her preeminent role in the early years of her Baby Brother's Band when she appears with her hand-picked Liverpool Legends.
Oak Ridge Boys
Theirs is one of the most distinctive and recognizable sounds in the music industry. The four-part harmonies and upbeat songs of The Oak Ridge Boys have spawned dozens of country hits and a #1 pop smash, earned them Grammy, Dove, CMA and ACM awards and garnered a host of other industry and fan accolades. Every time they step before an audience, the Oaks bring 15 years of hits and 50 years of tradition to bear on a stage show widely acknowledged as among the most exciting anywhere. And, each remains as enthusiastic about the process as they have ever been.
Pierce Arrow
Branson's Hottest Show!
The Pierce Arrow Show, Branson's Hottest Ticket in 2011 with More Sparkle-elaborate wardrobe, More Sizzle- motorized moving stages, More Boom-Guinness Books world's lowest bass singer and More Bang for Your Buck- special pricing. Features: Branson's Hottest Male Vocal Group, you'll love the smooth sounds, rockin' Gospel, and be stirred by patriotic medleys. Branson?s funniest comedian Jarrett Dougherty, Desta's amazing current musical stylings, and Kim Boyce- award winning beacon of pure talent and grace. Family fun for parents and kids of all ages. For Branson's Hottest Show see The Pierce Arrow Theater!
Presley's Country Jubilee
Gospel music has always been a strong tradition in the Presley family, even five generations ago when their great, great grandpa, a preacher, founded one of Missouri's first Pentecostal churches. Since then, the Presley family has woven the soulful harmony and lyrical spirituality of southern gospel into every family performance. It's the kind of music that won't just entertain you... it'll inspire you. Of course, with four generations of Presleys', you're bound to get some young 'uns that want to do it their way. And as the family's changed, so has the sound of today's country music. That's why you'll recognize many of your favorite new country hits, performed by some of today's best country entertainers.
Presley's information and schedule »
Rankin Brothers
Voted Branson's Best Show 2009 & 2010, The Rankin Brothers Classic Music Review has received over 15 Awards in its first three seasons in Branson. This show has something for everyone! From Elvis to Springsteen, George Strait to John Denver, Roy Orbison to Neil Diamond, The Supremes to Sonny and Cher, The Rankin Brothers Classic Music Review will keep you captivated from beginning to end!
The show features timeless Rock-n-Roll Classics, with an added variety of country and gospel. The musical impressions are astonishing and they have brotherly comedy and a stage presence that audiences adore.
Red Skelton - A Tribute by Tom Mullica
Back in Branson by Popular Demand! You'll swear you're watching Red Skelton live on stage as veteran entertainer Tom Mullica magically transforms himself into the comedy genius of America's most beloved clown and funnyman, Red Skelton! Take a nostalgic trip down memory lane and join Freddy the Freeloader, Clem Kadiddlehopper, Gertrude & Heathcliff, The Mean Widdle Kid, George Applebee, and a legion of memorable Skelton characters in this wonderfully-funny tribute 90-minute performance.
Red Skelton - A Tribute by Tom Mullica information and schedule »
Shake Rattle & Roll
Created in London, England, by our multi award winner Executive Producer David King, who has created one of the biggest and best 50's shows Branson has ever seen in Shake, Rattle & Roll - Best Hits of the 50"s!
This show will take you on a trip down memory lane with your favorite 50"s songs such as; "Good Golly Miss Molly", "Da Do Ron Ron", "Rock Around the Clock", "Only You", "Blue Suede Shoes" and many, many more. Within the era of 1950"s, this show will be a doo-wop complete with poodle skirts and bobby socks.
Shoji Tabuchi
Just what is the Shoji Tabuchi Show that everyone loving American music is raving about? At its heart is Branson USA's first family of extraordinary musical entertainment....Shoji Tabuchi, his beautiful wife Dorothy and delightful daughter Christina. The family that plays, sings, and dances encompasses all the wholesome values of truly great family entertainment. Yet the show rivals the pure excitement of Las Vegas or New York.
"The audience gasp quotient is high, as is fan loyalty." - The Wall Street Journal
Showboat Branson Belle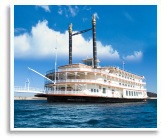 Showboat Branson Belle launches into 2011 with ENCORE! The new production, featured on 4 & 8pm cruises, promises to become an unforgettable musical journey featuring two headlining acts.
Encore! Cruise Starring Janice Martin & The Showmen

Be mesmerized by the world's only fiddling aerialist, Janice Martin. Her artistry as a world-class violinist, pianist and vocalist is heralded worldwide. She has been dubbed by The New York Times as "A violinist with a strong personality," and The Miami Herald called her "A stunning talent."

Comedy Cruise

Returning favorites include comedian/magician Christopher James as master of ceremonies, and Showboat's signature live orchestra. Plus, the Showboat Branson Belle's Internationally-awarded show producers have traveled from coast to coast to bring center stage an all-new Comedy Cruise, featured during most lunch cruises in 2011.

Silver Dollar City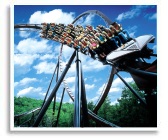 Silver Dollar City is one of the most popular attractions in Branson, Missouri. Home to five family festivals, 20 heart-stopping rides, 40 shows, 60 specialty shops and a whole lot more, this amusement park is rated number one in the world!
The rides are one of the main attractions for young and old alike at Silver Dollar City. Set high above the hills in the Ozark Mountains, the rides here will catapult you above it all and then zoom you back down to earth in seconds. The new PowderKeg roller coaster cost $10 million to build and boasts unbelievable speeds. This ride will jolt you from zero to 53 miles an hour in under three seconds!


SIX
SIX (aka The Knudsen Brothers) Have thrilled audiences from North America and from Europe to Asia. Rhythmic percussion, toe-tapping bass, and melodic vocals intertwine seamlessly, all produced live with the power of just SIX incredible voices.
Dubbed an orchestra-of-human-voices this award-winning tour de force captivates audiences with SIX's pure harmonies, astonishing vocal ranges, and singing so robust, you'll swear you hear a full band. Audiences are engaged the instant SIX hits the stage until the time they exit, and will enjoy experiencing something genuinely magical that defies description. Once you experience it, you will understand the power of SIX.
Titanic Museum
Titanic Museum Attraction in Branson provides a gateway to 1912, where First Class Maids and a variety of Officers and crew members bring the stories of the fabled ship and its fascinating passengers to life by retelling their stories in vivid, dramatic detail. The priceless artifacts throughout the museum shed additional light on the lives of those passengers and crew members when guests see the actual belongings of those on board and artifacts that sailed on Titanic's maiden voyage.
Twelve Irish Tenors
The Tenors sing with perfect harmonies, lilting melodies and a touch of Irish charm that has captivated audiences of all ages. They move tirelessly from opera to pop with each member of the group having the opportunity to showcase their own unique talent on songs such as Danny Boy, When Irish Eyes are Smiling, Yesterday, Twist & Shout, Mack the Knife, New York New York and the opera classics, Nessun Dorma and La Donna E Mobile.
Meet the Stars after the show!
Dinner with Yakov
Available October 1 to November 27
From the heartland of America, this funny philosopher takes your family on a comedic journey filled with love and laughter! Yakov's personal coming to America experience is touching and his take on American culture is absolutely hilarious. His genuine love for America is apparent throughout his show, and his patriotism is positively contagious.
As Yakov says, "What A Country," your family will feel like cheering for the red, white, and blue! In this fast-paced production, Yakov takes a turn as the United States President, explores the Laboratory of Laughter, and delivers some razor sharp humor as well as unique insights into life, family, and these United States.
---
---
All packages, lodging, show prices and schedules are subject to change. Please call to confirm specific prices, dates and times.
We will attempt to meet all "Special Requests," however they are NOT guaranteed and subject to availability. We will also work to assist customers in requesting accommodations due to disabilities.
---
For More Information or to Order Tickets, Lodging or Packages
Please Call Toll-Free 1-800-785-1550 or 417-243-2840
We are open 7 days a week.
From 8:00 am - 9:30 pm (CST)
December 14th 8:00 am to 4:30 pm
We will close early for our company Christmas Party.
Holiday Hours
Thanksgiving Day: 8:00 am - 5:00 pm
Christmas Eve: 8:00 am - 4:00 pm
Christmas Day: Closed
2014 Spring Hours
January: 9:00 am to 8:00 pm
February: 8:00 am to 9:00 pm
March: 8:00 am to 9:30 pm
---
---
---
---
---
Branson Tourism Center, 220 Branson Hills Parkway, Branson, MO 65616
Copyright © 2010 Branson Tourism Center. All Rights Reserved.