Silver Dollar City
View Photo Gallery
Give us a Call: 1-800-785-1550 PROMO
BTC
MENTION PROMO CODE FOR 50 CENTS OFF EACH GALLON OF GAS • SEE DETAILS
Business Hours: (All times Central Standard Time)
Open 7 days a week. 8:00 AM - 9:30 PM, with the exception of
Christmas Eve, December 24, 2014 8:00 AM - 4:00 PM
Christmas Day, December 25, 2014 CLOSED
---
2014 Information
"Branson Tourism Center offers two great ways you can enjoy the park!

One Day Pass - Pick this pass and enjoy one full day at the park!

Two Day Pass - This is our customer's favorite, and offers the greatest discounted price and the best value! Enjoy two full days at the park. The second day must be used within two operating days of your first day visit.
Is your family ready to have fun in 2014? Silver Dollar City has so many activities the whole family will love! There are 30 exciting rides like Powder Keg, Fire in the Hole, The Giant Swing, Wildfire, and Outlaw Run - The world's newest most daring wood roller coaster!
Then your family will enjoy the Grand Exposition which has 10 family friendly rides like the Magnificent Wave Carousel, Mighty Galleon, Electro Spin, Racing Regatta, Grand Exposition Roller Coaster and a variety of family friendly games! The Grand Exposition also has rides for your younger children like Royal Tea Party, Wings of Wonder, The Ladybugs and Happy Frogs! Families can visit the Grand Exposistion area and have their children measured so you know which rides will be safe for your children.
Your children will also enjoy Half Dollar Hollar. The youngest of explorers (ages 3-7) will enjoy this $1 million dollar play area that has Treetop Funhouses, Climbing Nets, Lil Swings, Hugo and Mary Carousel, and Pint Sized Sand Tables where kids can use their imaginations to create unique sculptures.
Silver Dollar City also has 40 live shows daily! Depending on which festival is in full swing you will hear a variety of music styles.
Silver Dollar City is also known for it's specialty shops, culinary school, and over 100 talented craftsmen. Your family will enjoy watching craftsman share how they create their keepsakes. Be sure to sign up for special daily classes at the Midwest Living Culinary & Craft School (extra fee is required for this activity.) Classes are limited, but you get to watch chef's and instructors create some great recipes in a state of the art kitchen showroom. Finally your family can shop at one of sixty unique and inspirational shops!
After a long day running around you may need to find a place to eat. Silver Dollar City has some great home style meals your family will love. Our dining locations will provide menu items like Tender Pork Roast, Smoked Beef Brisket, Fried Chicken, Honey Glazed Ham, Hot Dogs, Hamburgers, Nachos, sandwiches, and so much more! We have a variety of concessions to cool you off during those warm days. And don't miss our morning breakfast, served daily.
Silver Dollar City also hosts six world class festivals throughout the year!
Young Christian's Weekend - March 29 & 30: For Young Christians' Weekend, it's a year to stand up together and rejoice the freedoms that make this nation great the freedom to profess our faith for the Lord. Please Note: Young Christians weekend is a special 2 day event every year that sees thousands of teenage youth in the park. Please note the park will be very crowded.

World Fest - April 5 to May 4: Each spring international entertainers bring incredible performances from around the world to America's Heartland. It's a celebration of global proportions where laughter and music are universal languages!
Bluegrass & BBQ Festival - May 8 to June 1: See electrifying performances by some of the top names in Bluegrass music, from award-winning favorites to red-hot rising stars!
Star Spangled Summer - June 7 to July 20: Summertime is family time! This all-new celebration features Olympic athletes, award-winning magic and over 30 rides and attractions!
Moonlight Madness - July 19 to August 3: Experience up to 12 hours of non-stop thrills aboard your favorite Silver Dollar City rides including 2013 Best New Ride - Outlaw Run! Plus, special shows, exclusive events and sweet deals make Moonlight Madness a one-of-a-kind end of summer bash. Plus, back by popular demand, Midnight Madness, Saturday, July 26, and Saturday, August 2, keeps the party going until 12am!
Southern Gospel Picnic - August 22 to September 1: Southern gospel music has always resounded through these Ozarks' hills, from country churches and county fairs to grand stages and even in backyards during family get-togethers. Come hear that vibrant music again during America's Biggest Southern Gospel Picnic.
Country Music Weekend-September 6 & 7: Back by popular demand, Country Music Weekend returns in 2014! Join us in Echo Hollow® Amphitheatre for concert performances from classic country stars!

September 6:


Grammy Award-Winning country and crossover artist, Juice Newton, topped the charts with #1 hits including: "Angel of the Morning," "Queen of Hearts," "Hurt," and "You Make Me Want to Make You Mine.

With a career spanning 50 years, Exile, has charted ten #1 country songs including: "Woke Up in Love," "I Don't Want to Be a Memory," "Give Me One More Chance," "Crazy For Your Love," and "She's a Miracle."


September 7:


4-time CMA Group of the Year and 13-time Grammy Award Nominees, Diamond Rio, whose #1 hits have included "How Your Love Makes Me Feel," "One More Day," Beautiful Mess," and "I Believe."

Each 90 minute concert will begin at 6pm, weather permitting. Seating in Echo Hollow® will start at 4pm. Country Music Weekend concerts are included with park admission.
National Harvest Festival - September 12 to October 25: The Home of American Craftsmanship, Silver Dollar City, presents The Country's Premier Craft Festival - National Harvest & Cowboy Festival!
An Old Time Christmas - November 1 to December 30: Come Home for the Holidays to An Old Time Christmas - only at Silver Dollar City! One of the top 5 Holiday Events in the Country!

Please Note: Refunds can be issued only for one or two day passes that have not been used at the park.
---
Silver Dollar City Schedule
---
Silver Dollar City Pricing
Prices INCLUDE tax. We have no fees. Comparing Prices? Click Here to see how our prices stack up.
1 Day Pass
Adult
Child

$63.41

(Includes tax)

$63.41 Box Office

$52.66

(Ages 4-11)

$52.66 Box Office

Enjoy one full day at the park!
2 Day Pass
Adult
Child

$68.78

(Includes tax)

$68.78 Box Office

$58.04

(Ages 4-11)

$58.04 Box Office
---
Silver Dollar City is available in these packages!
Each Package Includes: Lodging, Tickets to Silver Dollar City, Free Branson Guest Card, and more!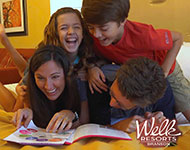 Starting at $169!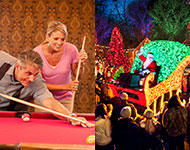 Starting at $179!
---
Silver Dollar City Location
Silver Dollar City
399 Indian Point Rd
Branson, MO
Enter a starting address below to
get driving directions.
Give us a Call: 1-800-785-1550 PROMO
BTC
MENTION PROMO CODE FOR 50 CENTS OFF EACH GALLON OF GAS • SEE DETAILS
Business Hours: (All times Central Standard Time)
Open 7 days a week. 8:00 AM - 9:30 PM, with the exception of
Christmas Eve, December 24, 2014 8:00 AM - 4:00 PM
Christmas Day, December 25, 2014 CLOSED