Branson Tourism Center provides tickets to Branson shows and attractions, hotels and lodging, discount vacation packages, gas discounts, and more! We have great relationships with theaters, shows and attractions so we can provide Concierge service - including terrific perks! And, we can bundle shows, attractions, and lodging to provide you discounts! With Branson Tourism Center, you don't pay more, you just get more. Please give us a call, or read more about us.
---
---
Let us help you with your next trip to Branson!
---
---
Discounts on Shows
We can SAVE you money and get you GREAT seats, whether you need one ticket or one hundred!
Let us help you plan your entire itinerary, or if you want to save money on just one show or one night's lodging, we are here to help with that too. We want you to enjoy your vacation in Branson, tell your friends and return again and again.
We have sold over 5,000,000 Branson show and attraction tickets!
We can reserve nearly any Branson Show or Attraction for you.
Book early for best seats possible.
Discounts on Hotels
Whether you are looking for an affordable and economical room or first-class luxury, we can help you arrange the perfect lodging for your next Branson getaway. From cabins to condos, from one person to twelve we can accommodate nearly any taste!
Discount Vacation Packages
Your package can include shows, lodging, meals, and more! We have special prices that help save you time and money.
Highly Recommend Shows
---
1-800-785-1550
WEB CODE
BTC
Open 7 Days a Week:
Daily: 9:00 am - 8:00 pm (CST)
About Branson Tourism Center
We at Branson Tourism Center offer you a heartfelt 'Thank You!' for choosing us to ensure that your visit to the Ozarks is all that you want it to be. The Quality and Value of your Branson experience is our only focus.
Every one of our nearly 100 dedicated staff members proudly live and work in this community. When you speak with one of our vacation planners, you are not chatting with a disinterested someone from far away. Our families dine at the same restaurants, have fun at the same attractions, and enjoy the same shows that we suggest to you and your family.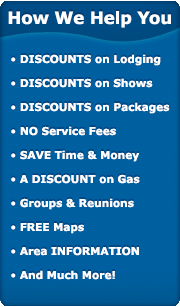 When you stop in at Branson Tourism Center, it will be a pleasure for the vacation planner who assisted you, if available, to say 'hello.' We look forward to the privilege of serving you. Thank you!
We will let you know what specials and discounts are currently available. We can offer suggestions and recommendations for Hotels/Shows/Attractions based on your taste and make your reservations for you.
We have discounts for Branson shows, attractions, hotels (Hotels & Motels / Condominiums / Cabins - Economy to Luxury) even discounts on gas!
We have Free Maps to help you get around town and avoid traffic and we can recommend the "Locals" Favorite Restaurants."
Branson Tourism Center values our customer's confidential information click here to view our privacy policy. We also have a very customer friendly cancellation policy.
Read our testimonials and find out what past customers, area shows, and businesses are saying about us.
---
About Branson Missouri
Branson, Missouri, is one of America's top vacation destinations and hosts over seven million people each year! With over 100 shows, 200 lodging facilities and 400 restaurants, there is something for everyone in the family to enjoy! We would like to help you and your family have the most enjoyable vacation possible in Branson! If there is anything with which we may assist you, please do not hesitate to give us a call.
Click here for directions to Branson Tourism Center
---