Titanic Museum Attraction
View Photo Gallery
Titanic Museum Attraction
---
Give us a Call: 1-800-785-1550 WEB CODE
BTC
ENTER OUR $500 BRANSON CHRISTMAS SWEEPSTAKES! CLICK HERE TO ENTER
We are open 7 Days a Week 8:00 am - 10:00 pm (CST)
---
2016 Information
The "Titanic Museum Attraction" is high on Branson's list of favorites! Celebrating ten years here, it's not simply a museum; it's an interactive attraction that shares the stories of those who were onboard for the famous ocean voyage that has fascinated the world for more than a century. Those who were lost, as well as those who survived, are memorialized in the displays, special events, and holiday celebrations held throughout the year. It's a wonderful two hour, walk-through interactive experience for the whole family; entertaining and educational, it features everything from authentic artifacts to news coverage from the time of the disaster, to personal items from families and loved ones of those who were aboard "Titanic." TripAdvisor has honored Branson's "Titanic Museum Attraction" with the Award of Excellence for 2012, 2013, 2014, and 2015, and visiting journalists applaud its genuine and heartfelt tribute to every passenger.
There are a variety of special displays and celebrations for 2016, including the chance to experience a truly spiritual treasure…the only bible to survive from the Titanic. And, Titanic-Branson celebrates the musicians who entertained passengers during their all-too-brief voyage; an area of the ship is adorned with wonderful images of each musician, and features a grand piano where talented visitors are encouraged to play a number for fellow guests! There's a reason for every season to visit the "Titanic Museum Attraction," but it's especially enjoyable during the Christmas and Winter Celebration in November and December when the ship glows with twinkling lights and holiday cheer!
No matter what time of year you decide to join the crew in their beautiful period attire aboard this lovingly recreated replica, you're sure to leave with a new appreciation for arguably the most famous ship ever to sail the ocean! So come aboard Branson's "Titanic Museum Attraction" and step back in time to this fascinating moment in history!
*Thanksgiving Weekend November 24-27*
Before you begin your yuletide celebration inside the "Titanic," where the crew is ready to take you on an imagined Edwardian Christmas holiday voyage, take some time outside and view the 1500 enchanting luminaries that honor the men, women and children who sailed on RMS Titanic's maiden voyage. The addition of the festival lights to the ship's lavish interior décor, follows a century's old, holiday tradition that's meant to remind us of Mary and Joseph's search for a lodging in Bethlehem. Visitors are encouraged to use the exciting nighttime glow for a picture-perfect photo opportunity - perhaps the photo for this year's holiday card.
Branson Has Even More to Offer Titanic Fans!
---
Titanic Museum Attraction Schedule
November 2016
S
M
T
W
T
F
S
1
2
3
4
5
6
7
8
9
10
11
12
13
14
15
16
17
18
19
20
21
22
23
24
25
26
27
28
29
30
Hours of Operation
9:00 am to 2:00 pm
9:00 am to 6:00 pm
9:00 am to 7:00 pm
9:00 am to 8:00 pm
9:00 am to 9:00 pm
10:00 am to 9:00 pm
---
Titanic Museum Attraction Pricing
Regular Season
Adult
Child
Family Pass

$25.09

(Plus tax)

$8.96

(Ages 5-12)

$67.20

(Plus tax)

Family pass is for 2 adults and up to 4 children ages 0-18.
Veteran Ticket
Adult
$22.40
(Plus tax)
Veteran rate is for Veteran only.
Veteran's Week Special
Adult
Free
(Tax Free)
This special rate is for all active and retired military during Veteran's Week, November 6-13 only. Military ID required.
---
Titanic Museum Attraction is available in these packages!
Each Package Includes: Lodging, Tickets to Titanic Museum Attraction, Free Branson Guest Card, and more!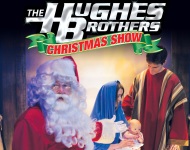 Packages starting at $289!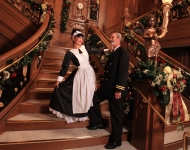 Packages starting at $239!
---
Titanic Museum Attraction Video
---
Titanic Museum Attraction Location
Titanic Museum
3235 W 76 Country Blvd
Branson, MO
Enter a starting address below to
get driving directions.
Give us a Call: 1-800-785-1550 WEB CODE
BTC
ENTER OUR $500 BRANSON CHRISTMAS SWEEPSTAKES! CLICK HERE TO ENTER
We are open 7 Days a Week 8:00 am - 10:00 pm (CST)