Titanic Museum Attraction
View Photo Gallery
Titanic Museum Attraction
---
Give us a Call: 1-800-785-1550 PROMO
BTC
MENTION PROMO CODE AND RECEIVE FREE TRIP PROTECTION • SEE DETAILS
Business Hours: (All times Central Standard Time)
Open 7 days a week. 8:00 am - 9:30 pm
---
2015 Information
The "Titanic Museum Attraction" is one of Branson's favorite attractions! Not simply a museum, it's an interactive attraction that shares the stories of those who were on-board for the famous ocean voyage that has fascinated the world for more than a century. Those who were lost, as well as those who survived, are memorialized in the displays, special events, and holiday celebrations held throughout the year. It's a wonderful two-hour, walk through experience for the whole family; entertaining and educational, it features everything from authentic artifacts to news coverage from the time of the disaster, to personal items from families and loved ones of those who were aboard "Titanic." TripAdvisor has honored Branson's "Titanic Museum Attraction" with the Award of Excellence for 2012, 2013, and 2014, and visiting journalists applaud its genuine and heartfelt tribute to every passenger.
For 2015, February is Sweetheart Month at the "Titanic Museum Attraction," a time when marriage proposals are made, weddings are held, and vows reaffirmed. The ship's Captain Smith officiates at each celebration of love and commitment. Did you know that twelve couples on the "Titanic" were on their honeymoon? There were also several brides-to-be on their way to a new life in America. On Valentine's Day, Helen Benziger will be at the "Titanic Museum Attraction" for one day only. She's Margaret Brown's great-granddaughter, and she'll have her family's treasured Loving Cup on display. In March, they'll honor the hard working Irish laborers who helped build the "Titanic" in Belfast. Ireland had more passengers aboard the ship than any other nationality; 159 passengers were Irish. A free Father's Day Boat Show will take place in June on the 20th and 21st from 9am to 5pm. November and December wrap up the year with a Christmas and Winter Celebration when the ship glows with twinkling lights and holiday cheer!
No matter what time of year you decide to join the crew in their beautiful period attire aboard this lovingly recreated replica, you're sure to leave with a new appreciation for arguably the most famous ship ever to sail the ocean! So come aboard Branson's "Titanic Museum Attraction" and step back in time to this fascinating moment in history!
---
Titanic Museum Attraction Schedule
Hours of Operation
9:00 am to 6:00 pm
9:00 am to 7:00 pm
9:00 am to 8:00 pm
9:00 am to 9:00 pm
9:00 am to 10:00 pm
9:00 am to 2:00 pm
10:00 am to 9:00 pm
9:00 am to 5:00 pm
---
Titanic Museum Attraction Pricing
Prices INCLUDE tax. We have no fees. Comparing Prices? Click Here to see how our prices stack up.
Regular Season
Adult
Child
Family Pass

$27.00

(Includes tax)

$27.00 Box Office

$12.50

(Ages 5-12)

$12.50 Box Office

$70.00

(Includes tax)

$70.00 Box Office

Family pass is for 2 adults and up to 4 children ages 5-18.
---
Titanic Museum Attraction is available in these packages!
Each Package Includes: Lodging, Tickets to Titanic Museum Attraction, Free Branson Guest Card, and more!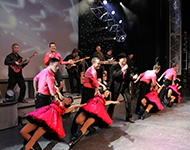 Starting at $229!
Starting at $259!
---
Titanic Museum Attraction Video
---
Titanic Museum Attraction Location
Titanic Museum
3235 W 76 Country Blvd
Branson, MO
Enter a starting address below to
get driving directions.
Give us a Call: 1-800-785-1550 PROMO
BTC
MENTION PROMO CODE AND RECEIVE FREE TRIP PROTECTION • SEE DETAILS
Business Hours: (All times Central Standard Time)
Open 7 days a week. 8:00 am - 9:30 pm